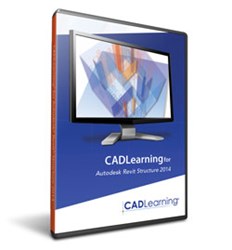 Bedford, NH (PRWEB) October 08, 2013
4D Technologies, Autodesk authorized publisher and maker of the industry-leading CADLearning products for Autodesk software, released CADLearning for Autodesk Revit Structure 2014.
The self-paced course, offering over 36 hours of training and 450 video tutorials, is presented by Rebecca Frangipane. Lessons cover concepts and demonstrations of Autodesk Revit Structure software used by design and construction professionals.
Rebecca is a Structural Technician at KJWW Engineering Consultants in Rock Island, Illinois. She has worked exclusively with Autodesk Revit Structure since 2007. Rebecca works closely with 4D Technologies to create self-paced learning products for the latest CAD and BIM software, specifically the Revit Structure courses.
The CADLearning course for Autodesk Revit Structure teaches users how to fully and efficiently utilize the software for performing structural design and analysis. They can learn everything from the basics of getting started to advanced concepts, including managing projects, advanced modeling, design analysis, building structure, family creation and worksharing.
Visit http://www.cadlearning.com/courses/autodesk-revit-structure-training-tutorials/ to watch sample video tutorials, view course details, and to learn more about subscription options for individuals, Education, Enterprise and Government.
About CADLearning
CADLearning comprehensive, self-paced professional learning content is designed to maximize performance with Autodesk 2D and 3D design, engineering and entertainment software. This continuously growing library of learning material stays current with the latest software releases for AutoCAD®, Autodesk® 3ds Max®, Autodesk® Inventor®, Autodesk® Maya®, Autodesk® Revit® and more. Users leverage CADLearning for self-paced learning, as an ongoing resource, and as a help tool. CADLearning is developed by 4D Technologies, LLC. Visit http://www.cadlearning.com to learn more.
CADLearning is a registered trademark of 4D Technologies. 3ds Max, AutoCAD, Autodesk, Inventor Maya and Revit are registered trademarks or trademarks of Autodesk, Inc., and/or its subsidiaries and/or affiliates in the USA and/or other countries. All other brand names, product names, or trademarks belong to their respective holders.