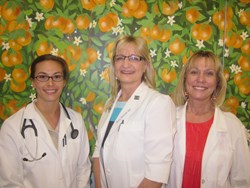 According to Monique Wusstig, VP of Operations, Yorba Linda campus; "we received some very informative feedback from our female patients that they prefer female practitioners for their well woman exams & screenings which led to the opening of this clinic.
(PRWEB) November 27, 2013
Caduceus For Women announced today the formation of an all-Nurse Practitioner women's clinic in the Yorba Linda, CA office. The clinic is part of the company mandate to provide innovative and state of the art women's health care in an environment where women can feel at ease. As part of the new Affordable Care Act many preventive exams are now completely covered by insurance with no deductibles, co-pays, or co-insurance. Caduceus wants Women to stay healthy by coming in for a fully covered well woman exam and these other covered screenings: mammograms, contraception counseling, breast feeding consultations, gestational diabetes screening, HPV DNA testing, sexually transmitted infection counseling, HIV screening, and more.
According to Monique Wusstig, VP of Operations of Caduceus for Women; "We received some informative feedback from our female patients that they prefer female practitioners for their well woman exams and screenings which led to the inception of a team of nurse practitioners to provide these services to women in our community. Our goal is to provide a comfortable environment with all the perks of a medical concierge service while taking all forms of payments. At our office you can relax and have a cappuccino or latte at our barista bar and a neck and shoulder massage, both complimentary to our patients. Ladies can relax in our comfortable women's lounge or visit our on-site "Chat Room" on any topic from the latest heart healthy recipes to a step by step tutorial on signing up for the new healthcare exchange. We also have a smart phone app for your iPhone or Android to make appointment setting easy or to utilize our "MouseCall" option, an Online Concierge service on our website, to ask one of our nurse practitioners a medical question."
About Caduceus Medical Group
Caduceus Medical Group is a community based multi-specialty medical group practice and management services company. Caduceus Medical Group is one of the last remaining practices owned exclusively by doctors and features a unique business model that keeps it independent from interference by health plans or hospitals. Step into the Caduceus Medical Group lobby and you will notice the difference right away. You are immediately greeted by assistants with computer tablets that will confirm your appointment and get you an espresso drink or water. Not having an appointment is not a problem as walk-ins and urgent care patients are always welcome. Caduceus Medical Group offers concierge services with internet access to your physician as well as a patient friendly website for appointment setting and an informative monthly newsletter.
Patients choose Caduceus Medical Group because they value their health, time, and a medical practice that supports their right to the best in care with access to all.
For more information contact
Tina Franklin
Director of Patient Relations
949-525-8536