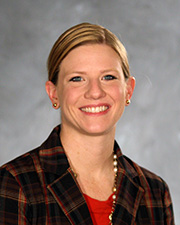 I love educating and helping patients understand why they need to invest in products and services essential for their improved health.
Frederick, MD (PRWEB) August 11, 2014
CaerVision, the international leader in podiatry patient education and in-office marketing, announces that Sarah Breymeier will step up as the Senior Director of the Podiatry Network and is ready for new growth.
Breymeier brings her experience as a sales and marketing professional to lead the overall operation and expansion of the Podiatry Network, having managed integrated plans for healthcare clients for more than seven years. Since 2011, Breymeier has found a niche in podiatry. Before coming to CaerVision, she was the marketing director for a leading custom orthotic lab, where she found a passion for the industry. "I love the podiatry world," said Breymeier. "In the last few years, my experiences have allowed me to build lasting relationships with influential podiatrists as well as lower-extremity product innovators who are making meaningful changes to improve patient lives."
"Sarah is ready to take our podiatry network to the next level," said Jack Zhang, CEO of CaerVision. With continual updates and enhancements, her plans are to maintain its current quality, while ensuring that content is up-to-date, accurate and meaningful to patients. Zhang added that Breymeier understands podiatrists and their challenges to communicate all available products and services to their patients during a visit. "I have had several conversations with podiatrists requesting materials to help patients understand why they need to invest in products and services that are essential for their improved health," said Breymeier. "CaerVision's communication tools take pressure off practice staff to try to persuade patients into purchasing products or scheduling elective procedures. After watching our network, patients become educated, voluntary consumers." On average, patients wait 23 minutes when visiting their physicians. CaerVision fills this idle waiting time by providing podiatrists educational programming relevant to the services they provide and to the conditions they treat. Additionally, practices can promote and advertise products dispensed and/or recommended for patients via the TV in their waiting room and monitors in their exam rooms.
About CaerVision
CaerVision is a leading provider of patient education and in-office marketing tools in the US, Asia and Latin America. With a goal of enhancing patient awareness and compliance, physicians will see increases to their bottom-line revenues. CaerVision clients see increases in product dispensing, elective procedures, repeat visits, and patient referrals. CaerVision offers subscriptions for its waiting room network, exam room education and marketing software, as well as its podiatric mobile app. Learn more about each tool at http://www.caervision.com/podiatry. CaerVision is headquartered in Frederick, MD with an operation center in Pennsylvania, as well as satellite offices in Grand Rapids, MI and Beijing, China.
Media Inquiries
Sarah Breymeier
888.841.2237
sarah(dot)breymeier(at)caervision(dot)com
http://www.caervision.com