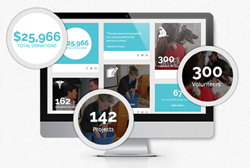 With 91% of consumers likely to switch brands to ones that are associated with social or environmental causes, companies need a solution that lets them tell their social impact stories in a way that's fun and engaging.
Portland, OR (PRWEB) March 31, 2014
Cause marketing apps leader CafeGive Social announced the launch today of a new solution that empowers socially responsible businesses to better share their charitable giving, volunteerism, and community involvement. This comprehensive app -called the Social Impact Profile- gives users the ability to collect and communicate all of their Corporate Social Responsibility in one place in a visually compelling way.
The new Social Impact Profile (SIP) offers businesses a way to collect, compile, and share their social impact, and take it to a whole new level using social media. From employee volunteering to grants and charitable giving, SIP users have the ability to visually showcase partnerships and the causes they support.
"With 91% of consumers likely to switch brands to ones that are associated with social or environmental causes per CONE Communications, companies need solutions that let them tell their social impact stories in a way that's fun and engaging," said Sandra Morris, CEO and Co-Founder of CafeGive Social. "The new Social Impact Profile is not only that tool, but also gives socially responsible businesses an easy way to set themselves apart from the competition and connect more meaningfully with their customers and fans."
The Social Impact Profile App acts as a living corporate social responsibility (CSR) report, offering fans and followers the opportunity to see and explore the company's commitment to its community and to responsible business practices.
Some of the capabilities of the new Social Impact Profile platform include:

"At-a-glance" reporting of Corporate Social Responsibility efforts, including hours volunteered, causes supported, donations given, and environmental impact initiatives.
Visually compelling, dynamic report of a company's impact in the form of a "living" infographic.
Full integration with social media including company page Facebook albums, giving customers, partners, clients, and fans more ways to share and show their support for a company's good works and to get involved.
The Social Impact Profile launches 4/1/2014, and demonstrates CafeGive Social's commitment to innovative social media solutions as well as to cause-driven marketing. As a newly Certified B Corporation, CafeGive Social is committed to helping other businesses to grow their cause marketing efforts, and to building authentic, results-driven campaigns using social media.
SIP users have the support of the CafeGive Social cause marketing team, including resources for cause campaign management, social media best practices, and tips for branding their company's Profile and messaging. The platform also provides businesses and marketers with the ability to track the performance of their Profile, and enhance it using real-time metrics.
To kick off the launch of the new platform and to celebrate its status as a B Corp and Benefit Company, CafeGive Social is using the platform to share its own community giving story.
"We are delighted to be able to share our own social impact with the launch of this new app," said Sandra. "Consumers want to know that companies are giving back to their communities, but are skeptical of greenwashing. They want to know that the businesses they support are committed to more than just the bottom line, and the Social Impact Profile provides industry leaders and socially responsible businesses with a tool to connect with consumers around their good works in an authentic, transparent way."
The new Social Impact Profile is the next generation of CafeGive Social's Social Impact Map app, which enabled companies to share their charitable activities on their Facebook page or website. The new SIP provides users with a more dynamic platform, with that integrates with more social media channels, and offers more opportunities for branding and consumer engagement.
CafeGive Social provides an easy-to-use suite of cause marketing apps and solutions that help marketing and sales teams share their company's community giving stories, raise funds and awareness for causes, improve transparency and automate giving initiatives, drive online and on-the-ground engagement, and grow a loyal consumer base.
Unlike other social media app providers, CafeGive Social is dedicated to cause-related marketing, and to helping businesses stand out and build long-term customer relationships through strategic marketing campaigns around the causes they champion.
About CafeGive Social:
CafeGive Social is the only company that combines social media marketing with meaningful, action-oriented cause marketing applications and solutions. Our products and services have helped companies, agencies and nonprofits of all sizes connect with customers to build brand, enhance reputation, raise awareness and effect social change. Headquartered in Portland, Oregon, CafeGive Social is a privately held company. For more information, visit http://www.cafegive.com.