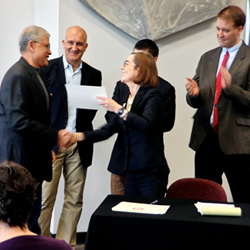 We are excited to join so many socially-minded companies in Oregon and around the country as both a Benefit Company and Certified B Corp.
Oregon (PRWEB) January 06, 2014
Last week, CafeGive Social made the "B-List," twice.
On January 2nd, the Portland-based technology company joined 28 other Oregon-based businesses in registering for Benefit Company status - a category of for-profit companies that formally dedicate themselves to serving the society and the environment, and not just the bottom line. January 2nd marked the first effective day of a new Oregon state law that allows businesses to incorporate social responsibility directly into their by-laws, and to organize as "Benefit Companies."
At the same time, CafeGive Social was also incredibly proud to announce its certification as a B Corporation through B Lab. Certified B Corporations like CafeGive Social are part of a global movement to redefine success in business, and leverage the power of businesses to solve social and environmental problems. CafeGive Social joins the ranks of over 521 other B Corps in over 60 industries around the world.
Becoming a Certified B Corporation as well as an Oregon Benefit Company helps to underscore the company's mission to help businesses and nonprofits to connect with consumers and supporters around the causes they love, and to give back to their communities. Dozens of companies and nonprofits have used CafeGive Social's suite of apps and cause marketing solutions to raise funds and awareness for communities in need, organize disaster relief efforts, promote employee volunteerism, and engage in corporate philanthropy. Becoming a certified B Corporation and Benefit Company helps hold CafeGive Social to an even higher standard, and helps the company to set a new standard in social and environmental stewardship.
"As a technology company that helps businesses to help the world, we believe that companies can and should be a force for good," said Sandra Morris, CEO and co-founder of CafeGive Social. "We are excited to join so many socially-minded companies in Oregon and around the country as a Benefit Company and Certified B Corp."
CafeGive Social joined Oregon Secretary of State Kate Brown and representatives from 28 other companies for the awarding of Benefit Company certificates, and to celebrate Oregon's socially responsible business community.
Under the new law, House Bill 2296, CafeGive Social and other registered Benefit Companies will continue to provide value to shareholders while meeting standardized expectations of transparency and accountability around their Corporate Social Responsibility and business practices. Benefit Companies are required to build social impact into their corporate purpose; have a legal financial responsibility towards their employees, community, and environment; and annually publicly report on their environmental and social impact using a third-party standard. This law provides increased protection for for-profit social businesses, and creates a greater system of transparency by standardizing CSR and sustainable business reporting practices.
On Day 1, Oregon surpassed Benefit Company registrations in 19 other states and the District of Columbia that have also passed B Company legislation.
"The overwhelming response to this new law demonstrates the vibrancy of Oregon's innovative, socially responsible business community," said Secretary of State Kate Brown. "Benefit Companies make a big difference in the community, creating jobs and acting socially responsible."
CafeGive Social is inspired to have joined this movement, which proves that businesses can achieve a harmony between being responsible corporate citizens and their bottom line.
About CafeGive Social:
CafeGive Social is the only company that combines social media marketing with meaningful, action-oriented cause marketing applications and solutions. Our products and services have helped companies, agencies and nonprofits of all sizes connect with customers to build brand, enhance reputation, raise awareness and effect social change. Headquartered in Portland, Oregon, CafeGive Social is a privately held company. For more information, visit http://www.cafegive.com.
About B Corp
Certified B Corporations meet rigorous standards of social and environmental performance, legally expand their corporate responsibilities to include consideration of stakeholder interests, and build collective voice through the power of the unifying B Corporation brand. As of June 2013, there are more than 750 Certified B Corporations from over 60 industries and 27 countries, representing a diverse multi-billion dollar marketplace. For more information, visit: http://www.bcorporation.net/
About B Lab
B Lab is a nonprofit organization that serves a global movement to redefine success in business so that all companies compete not only to be the best in the world, but the best for the world. B Lab drives this systemic change through a number of interrelated initiative: 1) building a community of Certified B Corporations to make it easier for all of us to tell the difference between "good companies" and good marketing; 2) passing legislation to accelerate growth of social entrepreneurship and impact investing (12 states have already passed benefit corporation legislation); 3) driving capital to high impact investments through the use of GIIRS Ratings and Analytics (more than 60 investors with over $3B in impact assets under management use GIIRS); and 4) providing free, powerful tools for businesses to measure, compare and improve their social and environmental performance (more than 7,000 businesses use B Lab's free B Impact Assessment). For more information about B Lab, visit http://www.benefitcorp.net/about-b-lab