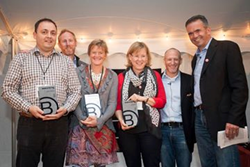 We are excited to help change the way that companies and consumers view the role of businesses in society
(PRWEB) October 20, 2014
CafeGive Social just proved that you don't have to break a rushing yards record to be named Rookie of the Year. Last week, the cause marketing technology leader was named B Corp Rookie of the Year at the annual B Corporation Champions Retreat in Vermont. Recognized for its outstanding work in educating others about the B Corp movement and in giving back to its own community, CafeGive Social is one of three businesses to receive this award.
The Rookie of the Year award is given to new B Corporations that have shown an outstanding commitment to the B Corp movement and that exemplify the ideal of "Business as a Force for Good."
B Corporations, or B Corps, are for-profit companies committed to using business as a force for good. Each B Corp is independently certified by the nonprofit B Lab to meet rigorous standards of social and environmental performance, accountability, and transparency. Since its inception in 2009, the B Corp movement has grown to include over 1,120 companies in 35 countries—brought together under a united mission to make the world a better place.
CafeGive Social joined the ranks of fellow B Corps such as Etsy and Ben & Jerry's earlier this year. It was also one of the first businesses in Oregon to become a Benefit Company. The company's recent B Corp-related campaigns include mobilizing local B Corps for a Week Of Action, the "B a Rockstar" campaign benefitting Rock n' Roll Camp for Girls, and several e-books and webinars developed to educate the public and other businesses about the advantages that B Corp status offers.
"We are honored to receive this award," said Sandra Morris, CEO and co-founder of CafeGive Social. "We are excited to be a part of this flourishing movement, and to help change the way that companies and consumers view the role of businesses in society. Since founding CafeGive Social four years ago, our social and mobile tools have helped our clients promote their giving, volunteer impact, and awareness for the causes they support. We look forward to continuing to work with other B Corps and socially responsible companies to make business a powerful force for good."
CafeGive Social joins other B Corp Rookie of the Year award winners Vermont Creamery and New Chapter. Sandra Morris represented CafeGive Social at the 6th annual B Corp Champions Retreat - an event that brings together B Corporation leaders and community change-makers from all over the world with the goal of building a new economy that is more inclusive and sustainable.
Vermont Creamery, New Chapter, and CafeGive Social are just a few of the companies committed to redefining success in business under the B Corp charter. Morris believes that the next step is to grow the marketplace and demand for B Corps.
"Consumers seek out business that are committed to the communities in which they operate. As businesses, it is our duty not only to give back, but to empower our customers to make an authentic difference..Our goal is to continue to show other companies that reinvesting in communities is not just good for the world—but also makes good business sense," said Morris.
CafeGive Social is currently working with several partners to create new tools that will streamline corporate social responsibility and community involvement reporting for businesses, making community impact more transparent and easier to share. For more information about CafeGive Social, causes they champion, and clients' campaigns, visit cafegive.com.
About CafeGive Social: CafeGive is the only company that combines social media marketing with meaningful, action-oriented cause marketing applications. We have helped businesses of all sizes and their nonprofit partners connect with customers to build brand, enhance reputation, raise awareness, and effect social change. Headquartered in Portland, Oregon, CafeGive is a Certified B Corporation and Benefit Company. For more information, visit http://www.cafegive.com.
About B Corp: Certified B Corporations must (1) meet rigorous standards of social and environmental performance; (2) legally expand their corporate responsibilities to include consideration of stakeholder interests; and (3) build collective voice through the power of the unifying B Corporation brand. As of April 2014, there are over 900 Certified B Corporations from over 60 industries, representing a diverse multi-billion marketplace.
About B Lab: B Lab is a nonprofit organization dedicated to using the power of business to solve social and environmental problems. B Lab drives systemic change through three interrelated initiatives: (1) building a community of Certified B Corporations to make it easier for all of us to tell the difference between "good companies" and just good marketing; (2) accelerating the growth of the impact investing asset class through use of B Lab's GIIRS impact rating system by institutional investors; and (3) promoting supportive public policies, including creation of a new corporate form and tax, procurement, and investment incentives for sustainable business.