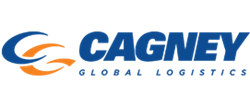 "This year alone, the company has thrived with the addition of major accounts and new facilities."--Tom Cagney
(PRWEB) September 13, 2016
Cagney Global Logistics, a leader in providing logistics and transportation services, reaches another major milestone this month celebrating 30 years of business serving customers with comprehensive global logistics services.
Tom Cagney, Founder and CEO, never imagined that 30 years ago the Colorado warehouse operation (previously known as Wildernest Logistics Solutions) would become the forward-thinking company with locations in six major cities: "It gives me great pride to celebrate this achievement with our Cagney Global employees, clients and business partners. Each has contributed to the success of this organization and has been essential to its growth over the past 30 years."
From its humble beginnings in 1986, the team's passion for the customer has been dedicated and unwavering. It is truly the foundation of the company. Today's supply chain has become more complex with each passing year. Cagney Global's solution-oriented approach and focus on a positive customer experience continues to position the company for growth. The commitment to exceed the customer's expectation is the constant mindset for each and every member of the Cagney Global team.
When asked what was the most rewarding over the last 30 years, Cagney didn't hesitate, "It has been remarkable to see the incredible changes in our industry and having the ability to help our customers with solutions almost anywhere around the globe is quite rewarding. We have a great team of people, some of whom have been with us for 28 years, and a great mix of new talent that is bringing fresh ideas and energy. This year alone, the company has thrived with the addition of major accounts and new facilities. It will be exciting to see what the next 30 years brings."
About Cagney Global Logistics
Cagney Global Logistics has been serving customers since 1986. We are a privately held organization, providing a wide variety of logistic and supply chain services. Our services include warehousing, distribution, storage, global cargo transportation, local delivery, residential delivery, reverse logistics, less than truck load (LTL), and full truck load. Cagney Global Logistics currently has operations in Colorado, Texas, California, Illinois, Ohio, and Missouri with planned expansions in the U.S. and strategic partnerships throughout the world to provide excellence in transportation and distribution services. For more information: http://www.CagneyGlobal.com