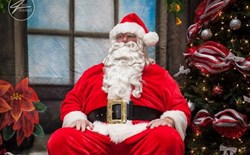 Shreveport-Bossier, LA (PRWEB) December 04, 2013
Shreveport-Bossier offers visitors convenient, affordable and most importantly enjoyable holiday experiences. New this year is the first-ever Cajun Christmas Festival at Cash Point "The Party Place" on Saturday, Dec. 7, from 4-6 p.m. Bring your family and friends out for this event that includes a gumbo cook off, beer tasting, vendor fair, live music by Cajun band Landry and Company and more.
The gumbo cook off will feature local chefs concocting various versions of the classic gumbo dish. Gumbo cook off tickets are $5 per person, which includes a tasting of each gumbo and then a vote on the best gumbo. The winner of the gumbo cook off will receive a $200 grand prize. The Coors Light girls will be on hand to present the second and third place prizes.
Kid-friendly activities include a Christmas card crafting project that will be mailed to active military soldiers. Kids will also have the opportunity to take photos with Santa Claus by a professional photographer under the rustic metal silo gazebo, draped in Christmas lights. The cost for a single photo will be $5. Packages will also be available.
Festival-goers will be able to shop at more than 20 vendor booths. Vendors include custom jewelry, artwork, clothing, toys, holiday décor and more. Each vendor will provide a door prize for the event. Winners must be present to claim their prize.
The event includes a toy drop-off for a local charity, Giving Hearts. Giving Hearts is a charity founded by festival organizer Candy Wilkins that provides toys to local, underprivileged children. Festival-goers are encouraged to bring new, unwrapped gifts to the event for donation.
General admission is free. Additional Cash Point "The Party Place" food and beverage menu items will be available to purchase during the event.
For media inquiries, contact Deann Jewell, communications coordinator at djewell(at)sbctb(dot)org or (318) 429-0645.
Stay up-to-date by visiting http://www.HolidayTrailOfLights.com or http://www.facebook.com/HolidayTrailOfLights for new holiday events. Also visit http://www.SBFunGuide.com for more holiday events in Shreveport-Bossier.
###