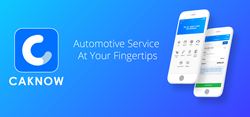 Our free and easy-to-use app helps this massive target market find the best service shops based on real-time quotes, book appointments, and pay for services through a secured platform — and all from their smartphone
Los Angeles, CA (PRWEB) September 06, 2017
One of the most stressful experiences that car owners face is choosing the right repair shop — because the wrong decision can lead to paying hundreds or thousands of dollars too much, and waiting days instead of hours to get their car safely back on the road. Fortunately, that's no longer a scary and costly risk that consumers must take thanks to the groundbreaking new app CAKNOW.
Available as a free download from http://www.caknow.com (web), the Apple App Store (iOS) or Google Play (Android), CAKNOW is a powerful, yet simple-to-use solution that connects consumers with automotive service professionals in their area for fast, reliable and affordable repair and maintenance services. Plus, to commemorate the app's launch, until October 31, 2017 CAKNOW is offering $20 off each user's first service request.
Here's how CAKNOW works:

Users create a unique profile and enter the details of their car (or cars) including make, model, year and VIN.
Next, they choose from a list of services like brake replacement, oil change, and so on, or they can describe their concern or problem in their own words (e.g. "rattling noise when driving at high speeds on the freeway").
Within seconds, reputable auto repair shops that have registered with CAKNOW are notified of the service request, and provide a quote for consideration.
Users browse their options, check reviews and locations, and schedule an appointment with their preferred shop. They can also contact the shop directly by email or phone to follow-up and ask questions.
When the service is completed and their car is safe and road-ready, users conveniently and securely pay their bill through the app. They are also encouraged to leave a review to help their fellow users, and reward shops that meet or exceed their expectations.
Currently, CAKNOW serves Los Angeles and the surrounding area such as Burbank, Pasadena and Glendale. The coverage area is constantly expanding across California, and will serve consumers nationwide in the near future.
At the same time, CAKNOW is a potent and cost-effective customer outreach and advertising solution for repair shops. They can also order auto parts in anticipation of scheduled work orders, which not only lowers costs and increases operational efficiency, but boosts customer happiness because it means less waiting around for parts to arrive.
"The national average for car repair costs are just over $350, which means that for most people it is a significant expense," commented Vance Xiang, Founder & CEO for CAKNOW Technology Inc. "At the same time, people are keeping their vehicles longer, and are more aware of the importance of preventive maintenance and scheduled servicing to maximize lifespan and resale value. Our free and easy-to-use app helps this massive target market find the best service shops based on real-time quotes, book appointments, and pay for services through a secured platform — and all from their smartphone. Simply put, CAKNOW brings automotive repair service into the 21st century, and it is a clear win for both consumers and automotive service professionals alike."
For additional information, visit http://www.CAKNOW.com, and follow CAKNOW on social media: Facebook, YouTube, Twitter, Instagram, Google+ and LinkedIn.