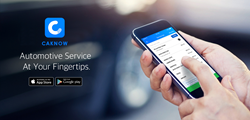 CAKNOW is the ideal solution to help shops affordably connect with profitable customers. The app brings automotive repair service into the 21st century, and it is a clear win for both automotive service professionals and vehicle owners alike
Los Angeles,CA (PRWEB) September 12, 2017
In the highly competitive vehicle repair industry, automotive service professionals spend an excessive amount of time speaking with prospective customers and inspecting their vehicles, only to have them take their business elsewhere. What's more, smaller service shops do not have the budget to drive big marketing and advertising campaigns, and often suffer the fate of being the "best kept secret" in their marketplace. Now, both of these major problems are a thing of the past thanks to the groundbreaking new app CAKNOW.
Through their easy-to-use web app, CAKNOW innovatively and cost-effectively connects automotive service professionals with profitable local customers who are ready, willing and eager to do business.
Here's how CAKNOW works:

Shops visit https://www.caknow.com/shopSignup and complete the brief registration. The process is streamlined for ease-of-use and simplicity, and only takes about a minute.
Once registered, shops are automatically notified of all new service requests in their area. Jobs range from relatively simple (e.g. oil change) to highly complex (e.g. transmission replacement).
Upon receiving a notification, shops can bid by providing a quote along with any other relevant information.
If their bid is successful, shops can immediately order parts if they wish from CAKNOW's full-stocked online store, and have them ready when their new customer arrives for their scheduled appointment. This not only helps shops save money, but it significantly improves customer satisfaction since there is no waiting for parts to arrive.
Throughout the process, automotive service professionals are in total control of any jobs they choose to bid on. There is no obligation to bid, and there is no minimum bid threshold to meet per month. Furthermore, all shops regardless of size have fair and equal exposure to CAKNOW's constantly growing database of vehicle owners.
At the present time, CAKNOW serves automotive service professionals in Los Angeles and the surrounding area such as Burbank, Pasadena and Glendale. For any new shop owners who sign up to service these areas, CAKNOW will waive all fees for their first three services completed. The coverage area is constantly expanding across California, and will serve shops nationwide in the near future.
"According to Google, people are now searching for repair and maintenance services more frequently than they are for new and used vehicles," commented Vance Xiang, Founder & CEO for CAKNOW Technology Inc. "And while this is great news for large service chains with huge marketing budgets, it is a nightmare for smaller shops that cannot spend thousands of dollars a month to appear high in organic search results, or to run expensive pay-per-click ad campaigns. CAKNOW is the ideal solution to help shops affordably connect with profitable customers. The app brings automotive repair service into the 21st century, and it is a clear win for both automotive service professionals and vehicle owners alike."
For additional information, visit http://www.CAKNOW.com, and follow CAKNOW on social media: Facebook, YouTube, Twitter, Instagram, Google+ and LinkedIn.