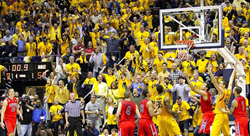 We are excited about the opportunity to work with young players to develop their games.
San Rafael, CA (PRWEB) July 14, 2015
After a very successful first session of camp in June, Coach Martin and the Cal Men's Basketball Staff have decided to add a second session of camp from August 3-5, 2015. Camp will be geared towards older players, ages 12-18, that are eager to develop their game and get a head start on the upcoming 2015-16 season.
The Coach Martin Skill Camp will focus on individual skill development in an intense and serious basketball setting. Coach Martin and the staff will work with each player to improve fundamentals, learn new skills, and take some important steps to understand what it is like to play at the next level.
Coach Martin states, "We are excited about the opportunity to work with young players to develop their games. The summer offers the perfect time to work on fundamentals and add new parts to your game. Our goal is to help each player identify and improve different areas."
"Coach Martin and the staff have done a remarkable job in establishing the program as a national power. In just over a year's time, Coach Martin is making his mark on the Berkeley campus and on Bay Area basketball, we are so thrilled to be able to offer this opportunity to learn from him and his staff to players around the Bay ." Said VP of Basketball for US Sports Camps, Justin Hoeveler.
Coach Martin Skill Camp:
August 3-5, 2015
9AM-12PM
Recreational Sports Facility (2301 Bancroft Way Berkeley, California 94720)
$195
About US Sports Camps
US Sports Camps (USSC), headquartered in San Rafael, California, is America's largest sports camp network and the licensed operator of NIKE Sports Camps. The company has offered summer camps since 1975 with the same mission that defines it today: to shape a lifelong enjoyment of athletics through high quality sports education and skill enhancement.
Players, coaches, parents and others interested in Nike Basketball Camps can visit http://www.ussportscamps.com/basketball/ or call 1-800-645-3226.