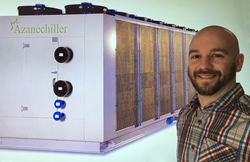 I'm honoured to step up as Azane's new VP-Business Development, and am looking forward to fronting the company as it transforms the face of America's industrial refrigeration chiller and freezer market
California (PRWEB) March 16, 2016
As the face of California based Azane, Nelson will represent the company as it pioneers the USA's nationwide switch to low charge NH3 ammonia systems, which are expected to replace R22 and other refrigerants with high ozone depleting and global warming potential.
"I'm honoured to step up as Azane's new VP-Business Development, and am looking forward to fronting the company as it transforms the face of America's industrial refrigeration chiller and freezer market", says Nelson.
Nelson has been working in the arena since 2005, with roles as a Refrigeration Application Engineer, Project Manager and Director of Refrigeration. He's also fronted a myriad of notable projects, including the USA's first grocery store ammonia application, which went on to receive EPA Greenchill platinum status and the association's "Best of the Best" award.
Nelson says, "I've always seen large-scale, "industrial" ammonia systems and small-scale, "commercial" synthetic refrigerant systems as polar opposites. With a commercial background, I've spent the last 8 years trying to bridge that gap, and successfully brought ammonia to grocery stores in California for the first time in the US back in 2012. Having seen the success of ammonia on a scale that small, I get excited about the abundant opportunities to apply it more broadly in a similar Low-Charge application."
With over 10 years of experience in the refrigeration industry, Nelson brings a wealth of expertise to the table. He boasts an in-depth knowledge of ammonia systems, and has published a number of niche papers over the years.
"Ammonia is the most efficient refrigerant being used today. Conveniently, it is also "future proof" since it is a natural refrigerant with no ozone depleting or global warming potential. Plus, in a low-charge application can be extremely safe and also avoid EPA and OSHA regulation".
As a MT Tech: University of Montana graduate in Mechanical Engineering, Nelson has a complex understanding of the technical aspects of refrigeration technology. He has active engineering licenses for seven different states, as well as associations with IIAR and ASHRAE.
An active member of the refrigeration industry, Nelson has his finger on the pulse of all the latest advancements. He currently maintains membership on several ASHRAE section -10 technical committees, is a voting member of ASHRAE TC 10.7 and program sub-committee chair, and regularly attends ASHRAE, IIAR, ATMOsphere, Chillventa, FMI and other conferences.
Together with Group MD of Star Refrigeration and President of Azane Inc. Andy Pearson, Nelson will front the IIAR annual meeting in Orlando. Schedule for March 20-23, the world's largest industrial refrigeration event will explore the benefits of low charge ammonia, a natural refrigerant solution.
"Attending the IIAR meeting is a fantastic way to kick-start the company's restructure, and ensure that Azane continues to dominate as a world leading manufacturer of low charge ammonia refrigeration systems."
"Azane is in a great position to provide a very unique low-charge solution that is extremely efficient, cost effective, and bullet-proof since it has been tried and tested for many years outside of the US. Azane gets to stand on the broad shoulders of Star Refrigeration—a world-renown natural refrigeration system provider and industry leader", said Nelson.
Caleb Nelson succeeds former executive level employee, Derek Hamilton.
To find more about the exhibition, please visit http://www.iiar.org/iiar/WCM/Events/2016_Conference/2016_Program/2016_IIAR_Conference_Information.aspx
Each attendee will receive a copy of the newly revised ANSI/IIAR 2 -2014 Standard for the Safe Design of Closed-Circuit Ammonia Refrigeration Systems.
To find more about Azane, and the latest low charge air cooled ammonia technology, go to http://www.azane-inc.com
About Azane
Azane is a world-leading manufacturer specializing in low charge ammonia refrigeration solutions. Azane's range of packaged chillers and freezers operate using low-charge ammonia – a natuarally occurring refrigerant with zero ozone depletion potential and zero global warming potential. Azane are part of the Star Refrigeration Group and manufacture for the US market in Chambersburg, PA.
About Star Refrigeration
Established in 1970, Star Refrigeration lead the way in natural refrigeration and heating technology. The company developed the unique technology used in the Azanechiller and Azanefreezer to meet the environmental and legislative challenges that the cooling industry was facing in Europe as the continent started the phaseout of ozone depleting refrigerant R22. The technology has been installed for over 20 years at some of the world's leading organizations. Working closely with its customers, the company strives to offer a comprehensive range of cost effective, eco-friendly and socially responsible heating and cooling solutions to suit a variety of different business needs.