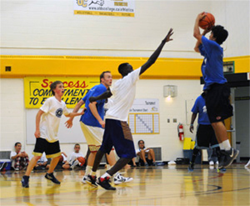 The teaching focus for Fall VA is preparing players mentally and physically for the upcoming basketball season.
San Rafael, CA (PRWEB) September 14, 2016
US Sports Camps' NBC Camps Varsity Academy (VA) is a training division of NBC Camps located in cities in the Northwest US and Canada. VA offers Fall and Spring training for those who love basketball and are serious about training. Fall Session takes place in Calgary, Alberta and meets Sunday afternoons from September 18 - November 13. The main focus of Fall VA is preparing players mentally and physically for the upcoming basketball season. NBC Camp Coaches help increase player confidence so that each player is the best they can be for their team.
Camps are divided into Varsity Academy D2 Training and D1 High School Elite. D2 Training is designed for ages 9-13 and meets from 2:00 - 3:30PM. Players are separated into training stations based on skill and ability level, allowing them to correctly learn and execute basketball skills. Athlete development is extremely important to NBC Camps and these sessions offer players a great opportunity to improve their game in a challenging and encouraging setting.
Varsity Academy D1 High School Elite is designed for the older and more skilled high school age players. Intensity and competition are high priorities in this program and it is specifically designed to help prepare athletes for the upcoming basketball season. Freshman-Senior athletes may enroll. Younger athletes will be accepted at the discretion of the VA staff. Teaching takes place primarily through competitive games and structured, organized play. D1 meets from 3:30 - 5:00PM.
The Program Director for Varsity Academy is Benji Williams, who has been involved with NBC Camps since 1993; first as a camper and then as a Master Teacher at NBC summer camps. He has traveled to and worked NBC camps in Olds, Montana, and Alaska. He has also taken an NBC Tour Team to the United Kingdom and Ireland. Benji loves basketball and loves working with young athletes who are motivated to become both better players and better people.
For more information about the Fall Session VA in Calgary, Alberta please visit http://www.nbccamps.com/va or to register for the program visit http://secure.nbccamps.com/mycart or call 1-800-406-3926
About NBC Basketball Camps
NBC Camps is one of the largest overnight basketball programs in the world located in 16 states and 6 countries. Since 1971, NBC Camps has been on a mission to help athletes be stronger on and off the court. For more information about NBC Camps, please visit their website at http://www.nbccamps.com.
About US Sports Camps
US Sports Camps (USSC), headquartered in San Rafael, California, is America's largest sports camp network and the licensed operator of Nike Sports Camps. The company has offered summer camps since 1975 with the same mission that defines it today: to shape a lifelong enjoyment of athletics through high quality sports education and skill enhancement. For more information please visit http://www.ussportscamps.com