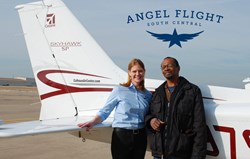 Victoria, TX (PRWEB) December 19, 2013
Providing an extra lift for cancer patients has become the focus of one flight school in Victoria, TX. The airplanes at Calhoun Air Center are mostly used to train new pilots, but the school is now allowing local pilots access to their planes for transporting patients, free of cost. The school is providing a life-saving service through their efforts to aid those in need of specialized treatment which would otherwise be unavailable to them.
Angel Flight South Central has over seven hundred pilots in Texas who volunteer their time, skills, and the operating costs of the flight. In 2012, the non-profit received over four thousand patient mission requests. Many patients they help transport live in remote locations and would need to drive long distances or purchase commercial tickets.
Chief Flight Instructor Erin Cude recently became an Angel Flight volunteer pilot and flew her first mission on December 11th. She volunteered to transport Larry Godsey from Arlington, TX to MD Anderson in Houston, TX for treatment. What otherwise would have been a four hour drive for Larry was cut in half.
Larry has been an Angel Flight passenger since 2010. He relocated to Arlington from Ohio shortly before discovering he had kidney cancer. Luckily, he is now in remission and must only travel to MD Anderson once every six months.
"Larry was an amazing first patient to fly with," Cude commented. "He had a great attitude! I'm really looking forward to future missions."
Dianna Stanger, owner of Calhoun Air Center, has been transporting patients for the past ten years. The first helicopter pilot to be accepted for the charity, she has flown over 150 missions in various types of aircraft. "As a pilot, the need to maintain proficiency is imperative. What better way to fly than with a patient who truly appreciates the flight?" Stanger stated. "I'm excited for our instructors and students to become involved with Angel Flight."