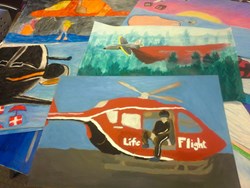 The students look forward to our contest each year, some even submit multiple entries. They spend weeks planning their art piece. It's exciting to see them with such enthusiasm towards aviation and art. - Dianna Stanger, airport manager.
Port Lavaca, Texas (PRWEB) January 31, 2014
Calhoun County Airport (PKV) has just about wrapped up the 5th Annual Calhoun Air Center Aviation Art Contest. Students from Calhoun County submitted over 275 entries this year. But before another year is finalized, the winners need to be chosen.
In the past five years, the airport has received over 1,500 entries and is designed to educate the students about the multiple avenues of aviation through art. In honor of the fifth year, Calhoun Air Center is making the selection process more exciting. The public will get to pick the first place winners.
"Each year we can't wait to see what the students come up with – they are very talented," said public relations coordinator Jasmine Gordon. "This year we really wanted to share the entries with other art and aviation enthusiasts. What better way than to let the public vote for their favorite!"
The art pieces will be showcased via an online contest. The most votes in each age group will be announced the winner and will receive some incredible prizes sponsored by AOPA. The age groups are as follows: Senior Category (ages 15 – 18), Intermediate Category (ages 11 – 14) and Junior Category (ages 7 – 10).
The theme was "Flying Saves Lives." The deadline to vote is Wednesday, February 5, noon CST.
Vote at: https://www.facebook.com/calhounaircenter/app_451684954848385.
About the art contest: The airport's art contest is structured after the Texas Department of Transportation (TxDOT) International Aviation Art Contest. Calhoun Air Center submits all of the entries from the local art contest to the TxDOT International Aviation Art Contest. TxDOT Aviation Division sends each student a participation certificate to their school.
The winners of the TxDOT International Aviation Art Contest will be announced by March 2014; winning contestants along with their family and teacher are invited to TxDOT's Texas Aviation banquet which will be held in Dallas, Texas, on April 10, 2014, at the Dallas Sheraton Hotel. Following the state-level contest, winners will have their entries sent to be judged nationally.