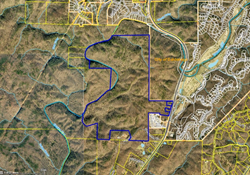 Dahlonega, GA (PRWEB) October 27, 2015
Green Bay, Wisconsin-based real estate auction firm Micoley.com is excited to announce that one of the properties that will be auctioned as part of its major 4th quarter event on December 2 will be none other than the Calhoun Gold Mine located at 483.93 +/- Acres South Chestatee Street Dahlonega, GA 30533.
After the Georgia Gold Rush in 1829, John C. Calhoun, the 7th Vice President of the United States, purchased the land included in this property, permanently lending his name to the site. The Calhoun Mine was added to the National Register of Historical Places and named a National Historic Landmark in 1973.
The property consists of 483.93 +/- acres outside the City of Dahlonega, with 135 +/- acres under permanent conservation with an easement that is perfect for hiking, hunting, fishing, and ATV use on existing roads. What's more, the property can be subdivided and or annexed into the City of Dahlonega.
The property includes not just the Calhoun Gold Mine, but also the Calhoun Dam & Stamp Mill and a 14x40 shed, as well. Three homes also exist on the property for potential additional rental income. Homes consist of 1,718 square feet built in 1974, 3,046 square feet built in 1962, and 2,185 square feet built in 1960, per the county. Two of the homes are currently being rented.
Micoley.com founder & CEO Wade T. Micoley is thrilled about the opportunity to work on a property with such a rich history: "The Calhoun Mine is a National Historic Landmark for a reason, and we want to honor the 7th Vice President's legacy the best way we can. It's simply a beautiful piece of land and we cannot wait to match a buyer with the property who will continue to uphold its tradition with the same zeal the Calhoun family did in the 1800s."
The property is listed at $5,100,000 with an opening bid of $2,950,000 if no offer is received before the December 2 auction.
The highly motivated sellers of this property have indicated that they plan to entertain early bids and offers. Buyers are most likely already researching this property, and coming to decisions about whether to make a purchase, so potential buyers are advised to act fast.
Interested parties should visit micoley.com to find more photos and details about the property, or visit in person and perform an inspection on site, which is highly recommended. (866) 371-3619 is Micoley.com's information line. Additionally, Micoley.com features a live chat service through which questions can be answered.
About Micoley.com:
Green Bay, Wisconsin-based Micoley.com is a real estate marketing firm specializing in project focused auctions and sales events of bank-owned and traditionally listed Real Estate throughout the United States. The Micoley.com approach to Real Estate marketing tailors each auction plan to the client's individual needs. The site is constantly being updated for the benefit of buyers, as large-scale auction events are held quarterly, and new properties are added daily.