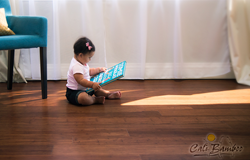 The test results reflect our commitment to our customers' well-being. We're proud to offer floors that provide families with peace of mind. - Jeff Goldberg, Cali Bamboo's CEO
San Diego, CA (PRWEB) April 04, 2014
Cali Bamboo, a leading manufacturer in green building materials for residential and commercial projects made primarily from bamboo, announces Formaldehyde emissions test results on their Bamboo and Eucalyptus Fossilized® Flooring.
While low cost flooring providers become nervous when discussing the controversial topic of formaldehyde levels, Cali Bamboo today published their formaldehyde emissions test results with several floors registering standardized concentration levels as "Not Detectable" with less than 0.000 PPM (parts per million). The tests, which were performed by the world's preeminent emissions detection laboratory Benchmark International, show that even the floors with detectable levels were still 50 times lower than the strictest California Air Resources Board (CARB) Phase 2 standards 0.05 PPM. In fact, Cali Bamboo floors scored even lower than the typical air we breathe 0.02 PPM.
Cali Bamboo attributes these scores to a proprietary quality control process which includes the use of superior materials, adhesives and manufacturing techniques yielding a product that is beautiful, durable, eco-friendly and safe for even the most sensitive homeowners. "The test results reflect our commitment to our customers well being," says Jeff Goldberg, Cali Bamboo's CEO. "We're proud to offer floors that provide families with peace of mind."
To view test results for Cali Bamboo flooring and to see how they compare to EPA emissions standards and other low cost bamboo flooring providers, visit the Breathe Easy Low Voc Flooring webpage: http://www.calibamboo.com/low-voc-flooring.html.
About Cali Bamboo
Cali Bamboo is one of the fastest growing green building material companies in the United States over the last decade with a vision to create innovative sustainable building products for both residential and commercial projects in order to help make a positive difference in the future of the planet. Learn more at http://www.calibamboo.com.