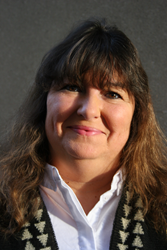 "Our clients in Kentucky will benefit from Eve's hands-on approach to understanding each agency's unique emergency operations and then working to find a solid solution – be it enhanced training, or a complete migration path." - Faysal Tay, VP of Sales
Niagara Falls, NY (PRWEB) November 03, 2016
Ms. Eve Eggiman, a Caliber Public Safety (Caliber) Regional Sales Executive, expands her reach into the Kentucky territory. With over 30 years of hands-on public safety experience, from dispatching to directing a 9-1-1 center, Eve currently shares her extensive knowledge with Caliber clients in South Carolina, North Carolina and Virginia. In the expanded territory, Eve will work with our strong Kentucky client base to ensure the relationships, forged over time throughout the state, will continue to prosper and grow.
"Ms. Eggiman has been with the Caliber team for over nine years and continues to share her broad public safety knowledge and experience with her clients and colleagues," said Faysal Tay, Vice President of Sales for Caliber Public Safety. "Our clients in Kentucky will benefit from Eve's hands-on approach to understanding each agency's unique emergency operations and then working to find a solid solution – be it enhanced training, or a complete migration path."
Caliber Public Safety delivers multiple product offerings, allowing clients to choose what works best for their individual agency. Leveraging many years of combined experience, we build solutions to ensure that our clients manage and thrive in an increasingly challenging technology world.
Caliber Public Safety, a division of Harris Systems USA, Inc., is committed to supporting legacy products for as long as our clients rely on them. To help protect the investment agencies have already made in their law enforcement software, Harris stands by a "Software for Life" policy. All customers, who maintain a current maintenance agreement, receive the benefit of substantially reduced costs when upgrading or replacing their current system with any of the next generation software available within the Caliber Public Safety family of products.
Please contact Eve directly at 843.237.2936 or yeggiman(at)caliberpublicsafety(dot)com to discuss your current products and future roadmap.
About Caliber:
Caliber Public Safety offers enterprise solutions in the areas of Computer Aided Dispatch (CAD), Records Management Software (RMS), Mobile and Offender Management Solutions (OMS). Through strategic partnerships we have expanded our scope and reach, positioning our business to provide innovative products for agencies of every size throughout the United States.
Caliber Public Safety is a business unit of the Harris Operating Group of Constellation Software, Inc. Harris Systems USA, Inc. is a member of the Harris Operating Group and is one of the legal entities that markets and distributes software products and services under the Caliber Public Safety (Caliber) platform. Constellation Software, Inc. (CSI) is an international provider of market leading software and services to a select number of industries, both in the public and private sectors.