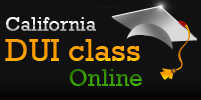 Every course is broken down into easy to follow lessons, giving you complete control and ensuring you get the most out of every minute of our program
Miami, FL (PRWEB) July 17, 2014
California DUI Class Online, a website that offers DUI courses for California DUI and alcohol related offenders, has just announced the launch of a new program that will allow out of state non-resident DUI offenders the ability to complete their court-ordered DUI classes online.
The new online DUI class is for California offenses only, and may only be taken by people who live out of state but got their DUI in California. For people who have been under a great deal of stress, wondering how and when they would be able to travel back to California to complete their court-ordered DUI classes, the new program from California DUI Class Online is extremely helpful. Rather than spending a lot of time and money on plane tickets and lodging, DUI and alcohol related offenders can take the new online DUI classes from the comfort of home.
Since the day California DUI Class Online first launched, it has strived to help convicted DUI drivers to successfully complete their required classes in a more convenient environment.
"Our classes are available anywhere you can access the internet, on any desktop or laptop computer, 24 hours a day, 7 days a week and on all major holidays," a spokesperson for the website noted, adding that once a person selects the required DUI class and registers for the program, he or she can begin immediately.
"As you go through the program our website will save your progress every step of the way. This allows you to take our classes around your busy schedule without having to worry about dedicating hours of time all at once. Every course is broken down into easy to follow lessons, giving you complete control and ensuring you get the most out of every minute of our program."
Once students have completed their court-ordered DUI class and passed the requisite tests, they will be provided with a free completion certificate that contains all of the information the court will require to make sure they've satisfied their DUI class requirements.
Anybody who would like to learn more about California DUI Class Online is welcome to visit the website; there, they can read about the online DUI classes for both California residents and the new non-resident program.
California DUI Class Online:
California DUI Class Online is a premier provider of rehabilitative education for California DUI and alcohol related offenders. Through the site's breakthrough program, thousands of people will be rehabilitated nationwide. For more information, please visit http://www.californiaduiclassonline.com/