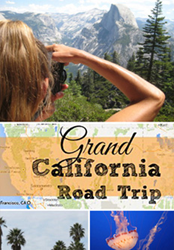 San Francisco, CA (PRWEB) March 19, 2014
Navigating where to go and what to see on a family road trip in California is a daunting task given the sheer number of kid-friendly attractions in this extraordinary state. The beauty of a road trip is the ability to cover ground and experience a bit of everything in one vacation. Now, thanks to the California family travel experts at Trekaroo and Ciao Bambino, busy parents have an easy way to plan that long-awaited California family vacation.
The Grand California Family Road Trip is a parent-approved guide to California's best highlights for families. The nine-night itinerary is crafted to give families enough time to take in the main attractions at five essential destinations – San Francisco, Monterey/Carmel, Santa Barbara, Los Angeles/Orange County, and San Diego, while leaving enough time to meander off-the-beaten path. This quintessential California experience includes a bit of everything — beach time, city time, and even some coveted Disney time.
"California is a year-round treasure for families," says Amie O'Shaughnessy the Managing Editor of Ciao Bambino. "Our teams have explored every corner of this state with kids; we've distilled favorite finds into a blueprint that makes it seamless for families to pick and choose what works for them in our Grand California Family Road Trip."
Where to affordably stay with kids is a critical part of any successful family vacation. To address this, the guide offers compelling exclusive packages at two favorite family-friendly resorts: Carmel Valley Ranch on the Monterey Peninsula and the Hyatt Regency Huntington Beach Resort and Spa in Southern California. Both are convenient for a road trip and offers extensive amenities for kids of all ages.
"Our ears are to the ground for experiences and properties that families consistently rave about," says LiLing Pang, the CEO of Trekaroo. "We approached exceptional properties at our recommended overnight destinations to provide exclusive discounts to help make this road trip both grand and wallet-friendly."
For families on a budget who want an even more affordable road trip, Jucy Rentals just arrived from New Zealand and is changing how families experience camping. Jucy is also offering Grand California Road Trip families a great discount, 15% off any rental until December 31, 2014.
And finally, for families who want someone to help customize their trip even further, Ciao Bambino's popular Family Vacation Consulting Team can provide one-on-one travel assistance for a flat $250 planning fee.
Each guide authored by these two award-winning family travel planning sites offers a slightly different flavor. Both are worth perusing.
> Get Trekaroo's Grand California Family Road Trip
> Get Ciao Bambino's Grand California Family Road Trip
###
Ciao Bambino! is a leading family travel brand and global family travel planning website featuring curated family-friendly hotel reviews, an award-winning family travel blog offering tips, news, and narratives related to traveling with kids of all ages, and a comprehensive Family Vacation Consulting service. Get more information on CiaoBambino.com.
Trekaroo is the fun way to get the inside scoop on everyday travel with kids. With thousands of kid-friendly activities, hotels, and restaurants, Trekaroo unearths delightful discoveries near and far. Learn more about Trekaroo and connect with additional travel-savvy families on Trekaroo.com.