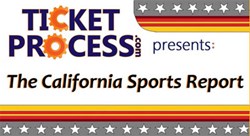 (PRWEB) September 18, 2013
Dickenson is a sports journalist, author, artist and the creator and host of The California Sports Report, a weekly hour of online sports radio that has garnered the attention of fans in the Golden State and beyond. It has aired weekly since January of this year and has featured professional athletes, trainers, coaches and other figures, along with intelligent and sports-savvy co-hosts.
Montoya has grown to fame as the lead scribe at Maxboxing.com, and his penchant for getting to the bottom of a story and sticking his nose into situations that other writers would not dare has gained him both friends and enemies. He will join Dickenson and Lindol French weekly to interject his opinions and other musings on a show that – to use a cliché – plays by its own set of rules.
A wide range of original topics are covered in each 60-minute installment. A recent episode was highlighted by fast-paced and witty discussions regarding the Sacramento Kings arena debacle, the pro-athlete-gone-craziest since recent retirement, the single greatest pro athlete ever whose first name begins with a P, as well as an interview with a former MLB catcher who played for the San Francisco Giants and a few other teams over the past decade.
The show airs live on blogtalkradio.com on Wednesdays at 5pm Pacific/ 8pm Eastern. All past shows can be heard for free at any time at TCSReport.com. The show is the official podcast of TicketProcess.com, a popular and well-respected online epicenter for quick and affordable tickets of all kinds.