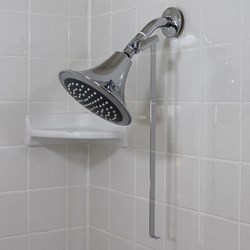 Dallas, TX (PRWEB) February 11, 2014
California Governor Jerry Brown recently declared a drought state of emergency for the entire state and is asking everyone to voluntarily reduce their water consumption by 20%. EPA.gov shows that the average family of 4 uses 400 gallons of water per day in the U.S. With a population of 38 million people in California, it's fair to say that in residential homes approximately 3.8 billion gallons of water is consumed daily.
People have been warned of the water shortage in California and asked to conserve 20%. Leadership is needed to provide direction for California residents in using new water conservation technologies and teaching new habits to effectively save water.
Action is essential to solving the problem of safeguarding the most precious of all resources, WATER, in this time of Drought Emergency. Resource managers of water supplies have a responsibility to educate the general public on ways to conserve water. People need direction and Water Select® offers solutions that will have long range effect and positive environmental impact.
What does this mean to the average household?
Routine chores such as washing clothes, cleaning dishes and general maintenance of living quarters will always require water. To maximize water conservation careful attention to detail needs to be given when choosing which daily chores will be changed and how.
Another place to conserve water is in the bathroom. The average U.S. shower uses 16.8% of water consumed inside the home according to EPA.gov.
The Water Select® science team has addressed the issue of maintaining a quality shower while still reducing water consumption. By utilizing the Water Select® valve people can keep the existing showerheads they are already comfortable using. If only 10% of residences in California (1.2 Million homes with a family of 3) use the Water Select® valve with 2.5 gpm showerheads, it can instantly save 20% or over 3 Billion Gallons of water per year (using national averages at EPA.gov).
The instant 20% savings is automatically achieved when the Water Select® valve is installed with a 2.5 gpm showerhead, even if the full valve function is not utilized to further control water flow by pulling the unique long handle. By pulling the long handle on the valve to control volume even more water can be conserved. A person can easily save 40% and up by using the valve to control flow while still enjoying a great shower.
The Sacramento River, the beautiful California lakes and the reserve aquifers could maintain more water with smart conservation. When flow control is utilized, many gallons of water being saved aggressively escalates and soon billions of gallons of water have stayed in the rivers, lakes and aquifers. Take the possibility of billions of gallons of water being saved and add to it every city and county in California participating in massive water conservation, and water availability becomes less of an emergency. The continued life of California's water supplies depends on unified public participation favoring daily water conservation.
Water is the current emergency and protecting California's useable water supply has never been more important. Visit http://www.WaterSelect.com today to see how easy it is to improve everyone's ability to use the most valuable natural resource on the planet, WATER, more resourcefully during the course of a shower. Water Select® is proud to produce the world's newest & best technology for enjoying a comfortable and efficient shower.
WATER SELECT® IS CONSERVATION WITH IMMEDIATE EFFECT