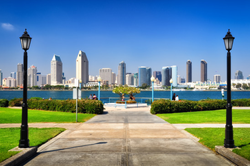 HARP 2.0 and the FHA working together to rebuild the dream of homeownership through circumstantial exceptions.
San Diego, CA (PRWEB) March 05, 2014
HARP Mortgage Lender (http://www.harpmortgagelender.com) reports that California homeowners are still finding the benefits of the Home Affordable Refinance Program (HARP) to be a great option for lowering mortgage payments. According to collected data in a recent FHFA report of HARP refinance activity, homeowners, who are trying not to fall delinquent on their mortgages, are embracing the program. The HARP program was appointed by the Obama Administration, and led by the Federal Housing Finance Agency (FHFA) to put this unique plan into action. This successful program was established on April 1, 2009, and has assisted over 3 million responsible homeowners who were either at the brink of delinquency on their monthly mortgage payment with LTV's exceeding 125%, or near a negative equity position and unable to refinance, by reducing their current mortgage payments through a refinance.
Traditional mortgage refinance programs usually allow for homeowners with a LTV of 80% and below the option to refinance. Throughout the life of a loan, an LTV ratio may vary due to changes within the housing market. When a homeowner's LTV ratio reaches above 100%, it is then considered an underwater mortgage (owing more than your home's worth). Before HARP 2.0, numerous amounts of mortgages were becoming delinquent due to the underwater homeowner's inability to qualify for a refinance. Many of these homes fell into foreclosure, and those who were in desperate need to get rid of their mortgages were then forced into short sale. It was critical enough for some homeowners to file for bankruptcy.
Click here to see if you are eligible for a California HARP Refinance.
According to a recent HARP Refinance Volume report (Year-to-Date December 2013) provided by the FHFA, California had a total 112,968 HARP Refinances and 414,295 since the beginning of HARP. The total puts California above all other states with the most HARP Refis submitted in the United States. The HARP volume reached a total of 30,021 refinances nationwide in the month of December, bringing the total number to 3,057,958. Statistics showed in 2013 that borrowers who refinanced through HARP had a lower delinquency rate than those who were eligible and did not take advantage of the program.
The help does not stop at homeowners who have a history of foreclosure, bankruptcy, judgement, short sale, loan modification, or deed-in-lieu. While the Obama Administration's HARP Refinance Plan is helping those who are trying to stay in top of their mortgage payments.
The Federal Housing Administration (FHA) came out with a program on August 15, 2013 to assist those who have lost their homes due to unforeseen economic circumstances. Insuring loans in all 50 states, including the District of Columbia, the FHA has successfully insured well over 34 million loans making it the largest mortgage insurer today.
According to a most recent foreclosure count reported by CoreLogic, there are about 45,000 completed foreclosures nationwide (as of December 2013). This summary of completed foreclosures within the past 12 months is still at its lowest since 2007. The delinquency rate in the nation is currently at 25%, which is at an all-time low since November 2008.
Foreclosure numbers for the state based on a most recent report from RealtyTrac (the leading online marketplace for foreclosure properties and real estate data) was 11% higher than a previous month and 54% lower than the same time last year. With the new FHA's Extenuating Circumstances Guideline, this extra 11% of those who have filed for a foreclosure in California may actually be able to buy again after 12 months; replacing the traditional 3 year wait after experiencing a foreclosure, deed-in-lieu, or short sale according to the requirements of the FHA.
Not only does the new program replace the wait for foreclosure homeowners who have experienced a Chapter 7 or Chapter 13 bankruptcy the new waiting period replaces the traditional 2 year wait.
Click here to read more about the FHA Extenuating Circumstances Exception.
The FHA Extenuating Circumstances Program may consider the following applicants dealing or "have" dealt with certain financial circumstances to be eligible for assistance:
Foreclosure
Loan Modification
Chapter 7 Bankruptcy
Chapter 13 Bankruptcy
Forbearance Agreements
Deed-in-Lieu
Short Sales
These are unique programs that are now available for many homeowners to utilize nationwide today. Despite the HARP Refinance Program ending in December 2015, the FHA Extenuating Circumstances Program will be here to stay.
Click here to see if you are eligible for the FHA Back To Work Program.
About the California HARP Program
The Home Affordable Refinance Program was amended in October of 2011 through an agreement between the Federal Housing Finance Agency (FHFA), Fannie Mae, and Freddie Mac. The amendment simplified the accessibility of the program for California borrowers looking to refinance through mortgage lenders.
HARP 2.0 Eligibility Guidelines:
1) Fannie Mae or Freddie Mac owns or has guaranteed the first loan.
2) Your current mortgage must have a note date of no later than May 31, 2009.
3) Borrower must be current with mortgage payments.
4) Borrower owes more than their home is worth, or there is minimal equity.
5) All mortgage payments have been prompt in the past 6 months.
6) No sixty (60) day late payments in the last 12 months.
HARP Mortgage Lender and Best Rate Home Loans are part of nationwide online network of home loan professionals and lending institution that are authorized to deal in the Obama Administration's revamped versions of the Home Affordable Refinance Program (HARP 2.0 - 3.0) and Federal Housing Administration's Back to Work Program (FHA). To learn more from a HARP specialist, call toll-free (866) 442-2184 at or to learn more from a FHA specialist, call toll-free at (888) 672-1015.