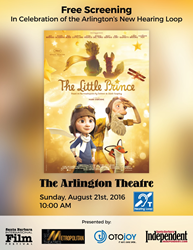 We're delighted that Roger Durling, the SBIFF Board of Directors, and Metropolitan Theatres recognize the importance of providing the assistive listening technology most of their patrons prefer over more common competing technologies.
Santa Barbara, CA (PRWEB) August 05, 2016
"Over the past five years we have installed hearing loop systems at more than 80 venues up and down Santa Barbara County, benefitting those with hearing loss and everyone interested in superior quality sound when they attend a concert, film, lecture, or any public event," Thomas Kaufmann, founder and CEO of OTOjOY, stated. "We're delighted that Roger Durling, the SBIFF Board of Directors, and Metropolitan Theatres recognize the importance of providing the assistive listening technology most of their patrons prefer over more common competing technologies."
"We were thrilled to host the U.S. premiere of this wonderful, animated adaptation of Antoine de Saint-Exupéry's novel on Opening Night of this year's film festival," stated Roger Durling, SBIFF Executive Director. "We are excited to provide an added opportunity for more to see this amazing film. Thanks to a generous donation from Nora and Michael Hurley and the Manitou Fund, the Arlington will now have its own permanent hearing loop system so all can enjoy "The Little Prince" and all future movies and events at this historic venue."
During the screening, individuals who are hard of hearing will be able to tap directly into crystal-clear sound without any additional equipment other than their own hearing devices. By simply switching their hearing aids or cochlear implants to the t-coil setting, they can connect wirelessly to the hearing loop system, thus eliminating any ambient background noise, echo, or distortion. Guests without hearing loss will also have the opportunity to hear the same immersive sound as their counterparts by using OTOjOY's t-coil enabled devices that will be available for loan at the event. These devices include OTOjOY LoopBuds, personal sound amplifiers, hearing aids, and stand-alone hearing loop receivers. Seating will be on a first-come first-served basis, however priority is given to patrons with hearing loss. Though not required, we encourage those who wish to use the OTOjOY hearing loop system to RSVP and reserve their seat by visiting http://www.otojoy.com/littleprince or calling (805) 914-5558 by 6:00 PM on August 19th.
About OTOjOY
OTOjOY is a leading innovator in enhanced audio systems for public venues and developer of personal technologies for individuals with hearing loss as well as everyone interested in bringing superior quality audio into their daily experiences. As a pioneering vendor of advanced hearing devices, OTOjOY is successfully introducing hearing loop systems to venues throughout California, starting with Santa Barbara County, and now in San Diego and the San Francisco Bay Area. Founded by Thomas Kaufmann in 2012, OTOjOY is dedicated to providing consumers with the highest quality listening experience available and to creating equal access for individuals with hearing disabilities. In the past four years, OTOjOY has completed installations of audio frequency induction loop systems at local venues, such as the Arlington Theatre, the Santa Barbara Bowl, the Lobero Theatre, the New Vic, and close to 200 other venues throughout the State of California.
Besides commercial and residential installation of hearing loop technology, OTOjOY's offerings include LoopBuds, the world's first consumer product for turning smartphones into t-coiled enabled devices for use at any hearing loop equipped venue, 5 Buck Chuck Club, a subscription service offering consumers high quality hearing aid batteries with the convenience and value of monthly home delivery, and universal as well as custom-fit hearing protection to prevent hearing loss due to noise exposure. OTOjOY is a member of the Hearing Loss Association of America (HLAA), the American Academy of Audiology, the International Hearing Society, and the California Academy of Audiology.
About OTOjOY LoopBuds
Developed by OTOjOY for use with iPhones, LoopBuds are a practical and universal smart phone device, which enhances the listening experience at venues equipped with audio induction loop systems. Featuring a built-in microphone and t-coil for reception, users activate the LoopBuds for hearing loop listening with the free LoopBuds app that provides volume control, sound customization, and captioning to enjoy crystal-clear sound at music performances, live theater, film, lecture, and other events.
About Santa Barbara Film Festival
The Santa Barbara International Film Festival is a 501(c)(3) non-profit arts and educational organization dedicated to discovering and showcasing the best in independent and international cinema. SBIFF offers 11 days of 200+ films, tributes and symposiums that transforms beautiful downtown Santa Barbara, CA into a rich destination for film lovers which attract more than 90,000 attendees.
SBIFF continues its commitment to education and the community through free programs like its 10-10-10 Student Filmmaking and Screenwriting Competitions, Mike's Field Trip to the Movies, National Film Studies Program, AppleBox Family Films, 3rd Weekend and educational seminars. In recent years SBIFF has expanded its year round presence with regular screenings and Q&As with programs like Cinema Society, The Showcase and its Wave Film Festivals.
About Metropolitan Theatres
Metropolitan Theatres is a fourth generation family owned theatre circuit with 17 locations and 88 screens in California, Colorado, Idaho and Utah. For additional company information, please visit http://www.metrotheatres.com.