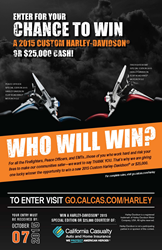 We know how hard first responders work. We appreciate everything they do and this is another way we can say 'thank you.'
San Mateo, CA (PRWEB) July 22, 2015
Some of the best riding weather of the year is approaching, and it's time to get moving for California Casualty's next "Work Hard/Play Hard" contest. October 7, 2015 is the last day to get entered for the biggest prize yet, a 2015 special edition Harley-Davidson® FLHP Road King or $25,000.
The "Work Hard/Play Hard" contest is open to all peace officers, EMTs and firefighters; American heroes who work hard and risk their lives to make our communities safer. The entry form and rules can be found at http://go.calcas.com/harley.
Joe Peters, a California EMT, opted for the $10,000 prize in September 2014. Another winner, Pennsylvania firefighter Robert LaMantia, is riding the Harley-Davidson® Forty-eight he won in in March 2012. Nebraska firefighter Tom Vail took the $10,000 option when he won the contest in August 2013. Other California Casualty "Work Hard/Play Hard" winners have received personal water craft and all-terrain vehicles.
"We know how hard first responders work," said California Casualty Vice President Mike McCormick. "We appreciate everything they do and this is another way we can say 'thank you.'"
The Road King is a sweet machine with timeless cruiser styling combined with all the features for the long haul. Don't be left on the side of the road, get entered today at http://go.calcas.com/harley. A winner will be announced in October 2015.
Headquartered in San Mateo, CA, with Service Centers in Arizona, Colorado and Kansas, California Casualty provides auto and home insurance to educators, firefighters, law enforcement and nurses across the country. Celebrating 100 years of service, California Casualty has been led by four generations of the Brown family. To learn more about California Casualty, or to request an auto insurance quote, please visit http://www.calcas.com or call 1.800.800.9410.
*Harley-Davidson is a registered trademark of Harley-Davidson Motor Company, USA. All rights reserved. Harley Davidson is not a participating partner in or sponsor of this contest.