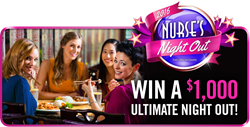 Nurses are the caretakers of America and we appreciate all they do.
San Mateo, CA (PRWEB) January 10, 2017
RN Merie Jackson is ecstatic after receiving the latest $1,000 Nurses Night Out award from California Casualty. "I am shocked, but it is so nice to be recognized," she said. "Nursing is very rewarding – and I like being able to help people – but we don't always get the appreciation and thanks for our hard work," she added.
Merie has been a nurse for 12 years, recently transferring from the ICU at Oregon Health and Science Hospital to the procedural care unit. After nine years, she admits that working in the ICU was becoming more mentally and physically challenging. She appreciates the one-on-one personal touch that she can provide in outpatient care.
California Casualty created the Nurses Night Out contest to thank nurses for the long hours they put in offering comfort and healing to patients and families. "Nurses are the caretakers of America and we appreciate all they do," said California Casualty Sr. Vice President, Mike McCormick.
"Nursing is very demanding and we help people at their best and at their very worst. This acknowledgement makes up for the bad days," Merie said. "While giving so much to help others, we often forget to take care of ourselves."
Merie plans on using the prize for a 23rd anniversary getaway with her husband.
RNs and nurse practitioners can learn more about California Casualty's Nurses Night Out and enter at http://www.nursesnight.com.
Merie, an Oregon Nurses Association (ONA) member, was surprised with the gift during a staff meeting at the Oregon Nurses Association office. California Casualty has partnered with the ONA to provide its members quality auto and home insurance with special benefits tailored to their professional needs.
Headquartered in San Mateo, California, with Service Centers in Arizona, Colorado and Kansas, California Casualty provides auto and home insurance to nurses, educators, law enforcement and firefighters across the country. Founded in 1914, California Casualty has been led by four generations of the Brown family. To learn more about California Casualty, or to request an auto insurance quote, please visit http://www.calcas.com or call 1.800.800.9410.