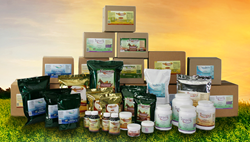 CARPE ARGILLA et CARPE DIEM
Los Angeles, CA (PRWEB) December 06, 2014
ION-MIN® edible clay, a premium montmorillonite clay celebrates 67 years of sales in America this month. This milestone in American Business History marks the birth in 1947 of a fast growing segment of the natural products industry. This segment champions the idea of returning to a primal past and using premium edible montmorillonite clays for natural health solutions, much like early civilizations. Early ancestors used clay topically, bathing and even eating it. In the past, the term, "Pica" has been used to describe the act of eating clay but now, to these clay advocates, the word to use is "bon appetit".
The original ION-MIN brand was changed to the name, Terramin, and it is the edible clay which is the living clay that began the growing edible clay industry in the United States. It is manufactured by California Earth Minerals and sold exclusively through its network of authorized resellers.
ION-MIN is the specific montmorillonite edible clay that was tested in a commission by N.A.S.A., under Contract Number NAS 9-3905 for potential use by astronauts while in space. N.A.S.A.'s important study shows how how this edible clay increased the bone density of the test animals that received it compared to those that did not. Follow the link to find thee research results submitted to N.A.S.A. The research was conducted by Dr. Benjamin Ershoff and Dr. Gurwant Bajwa in conjunction with Cal Tech University and The Institute for Biological Research from December 1, 1964 to June 15, 1965.
The use of clay for humans, animals and environmental health has been recorded in ancient civilizations of China, Egypt and Africa and are currently under study by the National Institute of Health for potential health promoting properties. ION-MIN, specifically, was chosen to research its potential health benefits, due to its unique properties, by Texas A & M University, Arizona State University and Loyola University.
Researchers like Nutritionist Neva Jensen, author of "The Healing Power of a Hydrothermally Produced Living Clay" further studied ION-MIN. In her book, she reports that North American Indians used clay for health issues for hundreds of years and their clays were considered a sacred gift from the Great Creator. They used it for medicine and sometimes, for food.
Since some Physicists say, "we are all made from the same stardust" and the Bible tells us, in Genesis 3:19, "for dust you are…" California Earth Minerals believes that for optimal health, it would be a benefit to refuel with some of that "dust" using Terramin edible clay. The dust of earth contains traces of mineral nutrients that are the basis for creating human life. This edible clay is consumed daily by mixing it with good water and drinking it for a quick refueling.
Premium montmorillonite clay contains a multitude of mineral nutrients available in macro, micro and trace form. There are nutrients in clay that are no longer available in food. Over farming and the production of GMO foods are products of a population explosion that threatens the quality of life of each citizen on Earth. Processed foods contain few mineral nutrients.
Not getting some of the "dust" from which humans evolved is having a harsh effect on the health balance of everyone who does not find a source for these ancient nutrients. Sadly, without some of these rare trace minerals diets are missing vital pieces in the human and animal health puzzle. Good safe sources of ancient minerals are some algae forms, a few seaweeds, some corals and a few rare edible clays.
Come celebrate the 67th year of ION-MIN montmorillonite clay and enjoy a clay drink or a clay smoothie. Raise your glasses to the Company that reintroduced us to the unique healing powers of Mother Earth. Sixty-seven years of use of a product speaks volumes about its efficacy. You can find out more about ION-MIN edible mineral products at Terramin.com.
About California Earth Minerals: ION-MIN premium montmorillonite clay products were introduced in 1947 and are marketed by California Earth Minerals Corporation. This 67th year of ION-MIN sales is being celebrated all of December with special offers for new dealers. California Earth Minerals is currently seeking entrepreneurial resellers to represent ION-MIN edible clay and its other montmorillonite clay products available. Visit CaliforniaEarthMinerals to apply.