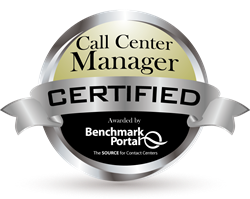 Overall this experience provides you with an arsenal of information to guide you to be a better manager and challenges your creative process as you go through the normal paces of work.
Los Angeles, CA (PRWEB) January 30, 2014
BenchmarkPortal and The College of Call Center Excellence introduce the 2014 Call Center Manager Certification Training schedule. This workshop is composed of information-rich modules that offer lectures, discussions and learning activities in the form of case studies that examine practical problem solving and current best practices. Originally developed by Dr. Jon Anton of Purdue University, the curriculum has been expanded and updated by Bruce Belfiore, Chancellor of the College and Jose Perez, Dean of the college.
Attendees will benefit from networking opportunities with their peers, sharing experiences with other call center professionals and learn how others meet thier daily challenges. Learn how to implement improvements that will reduce cost and increase productivity. This training will prepare managers to deal with the most important issues affecting their professions.
The call center management curriculum includes organizational leadership, human resources, quality monitoring, customer satisfaction, the basics of WFM forecasting and scheduling, call center technologies, technology-enabled processes, knowledge management, caller self-service, analytics and reporting, and call center benchmarking.
Small class size allows for one-on-one interaction with the instructors, as well as networking opportunities with colleagues and industry peers. Participants also leave with "take aways" that are meant to enable them to make a real difference in their centers.
Participants in these workshops typically include Call Center Managers, Supervisors, Directors and Vice Presidents. The courses are designed to enable these leaders to better manage their call centers and strengthen relationships with other departments. Every attendee receives complete course documentation, a comprehensive workbook, and a certificate of completion.
All call center training courses by BenchmarkPortal and The College of Call Center Excellence include access to a complimentary benchmarking report and web-ex style presentation of the individual's benchmarking results with their college instructor, following the course. Managers report that they really appreciate the combination of interactive classroom work along with personalized focus on individual needs and challenges. This approach is considered to be unique to BenchmarkPortal's College of Call Center Excellence training. True quality call centers exist as a result of quality training. BenchmarkPortal helps companies get the training they need, so that call centers perform at the levels others expect.
"The training was more than I expected. It was applicable to any call center, whether you have 4 people or 400. It brought home real life examples and experiences which definitely are designed to help support supervisory and management decisions. The training provided more than a cursory glance at topics like customer satisfaction, quality assurance, human resource management to name a few," said Inger Hainsley-Bennett, Customer Service Manager, Companies Office of Jamaica. "The value of detail I got from the data analysis and reporting module opened my eyes to how to effectively utilize data generated from the center. Overall this experience provides you with an arsenal of information to guide you to be a better manager and challenges your creative process as you go through the normal paces of work. This was an eye opener, a true "wow" learning experience. I am glad I was a part of this experience."
View the Calendar here for Call Center Training - Management Certification >>
Feb. 18-20, 2014 - San Diego, CA at the Hotel Palomar
Mar. 18-20, 2014 - Greensboro, NC at Lincoln Financial Group
Apr. 15-17, 2014 - Atlanta, GA at AutoTrader
May 13-15, 2014 - Newark, NJ at XEROX, E-ZPass Customer Service Center
June 10-12, 2014 - Mason, OH at Eyemed Vision Center
July 8-10, 2014 - To be determined...
Aug. 5-7, 2014 - Santa Clara, CA at Santa Clara Health
Sept. 9-11, 2014 - Dallas, TX at Edmentum
Oct. 7-9, 2014 - Annandale, VA at Northern Virginia Community College
Nov. 10-14, 2014 - Las Vegas, NV at Planet Hollywood (Call Center Campus Week)
About BenchmarkPortal
BenchmarkPortal's founders pioneered the first contact center benchmarking study in 1995. Now custodian of the largest database of contact center metrics in the world, BenchmarkPortal is a leader in certification, training, consulting and research for the customer contact industry. Its team of professionals has gained international recognition for expertise and innovation in best practices. BenchmarkPortal's mission is to help management optimize the performance of their center in terms of both cost and quality, encourage customer loyalty and build enterprise value. For more information on BenchmarkPortal, call 1-800-214-8929 or visit http://www.BenchmarkPortal.com.