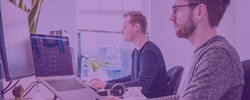 Paul Humphrey, CEO of Call Journey; "Our customers are shouting loudly around getting instant/real-time customer insights around COVID-19. We've responded quickly by creating a COVID-19 Search Framework, allowing them to easily understand qualitative/quantitative impacts on their organization."
MELBOURNE, Australia (PRWEB) March 31, 2020
As the impact of COVID-19 continues to evolve and work-from-home arrangements are being made, employees around the world are understandably finding it challenging to maintain productivity and to remain agile and engaged while settling into a new working environment at home, away from colleagues and friends. We all know that this challenge will be with us for a while, so working from home is our new norm!
We have all seen countless posts on digital media about how to operate in a new work from home environment – great for the now, but how do we maintain that for an extended period of time?!
In addition, organizations are struggling to ensure that their now remotely distributed workforce remain engaged and that they continue to deliver the same - if not improved, quality of customer experience.
Many global organizations manage their customer interactions predominantly via voice-based engagement – usually via small to large scale contact center channels or smaller inside sales teams in a B2B type context. A recent assessment showed that just in the U.S alone in one year, there were 260 billion minutes of inbound conversations to contact centers – that's a lot of insights right there!
As a solution, organizations continue to turn to AI, machine learning, NLP and ultimately the production of big data to monitor and analyse performance. If you follow the key premise of the Harvard Value Profit Chain – "look after you staff and they will look after your customers" it is CRUCIAL in our current new norm to get a consistent pulse on how engaged staff is, particularly the staff who engage with your customers.
Particularly garnering interest and an accelerated rate of adoption is conversation Analytics, which can intelligently analyze virtual real-time and historical conversations.
"In recent weeks, we have seen a huge influx of queries and adoption of our conversation analytics solution, particularly around the employee engagement feature of our technology from both partners and customers around the globe," said Paul Humphrey, CEO of Call Journey, a provider of market-leading conversation Analytics solutions.
Humphrey said that organizations they are working with over the last month or so are facing three main challenges as they are accelerating the need to have contact center agents work from home;
1. The technical challenge of moving staff into a new work-from-home environment
2. The challenge to create and regain an operational rhythm with the new remote workforce
3. The challenge to ensure employee "health and well-being and customer engagement with the business" is top of mind in the new norm.
He said, "Through Conversation Analytics, organizations are able to instantly analyze all business conversations occurring between agents and customers. These calls contain a goldmine of actionable insights that not only solve the challenge on agent engagement but also provide insights on what their customers are saying, feeling and meaning."
Through the smarts of advanced AI and the latest in Natural Language Processing, Call Journey's Conversation Analytics ecosystem helps businesses get a consistent pulse on the actual voice of their customer and on how their agents are doing – are they are engaged, losing drive, waning in activity or are they upbeat, adjusting to the new WFH environment. How does this look each hour, each shift, each day, each week?
Call Journey measures and scores every customer conversation right down to an utterance, transforms it into structured data that analyses areas such as emotion, sentiment, script adherence and compliance, keywords and trends, and triggers that may cause either customer exodus or agent burn out. These results are then delivered straight into the customer's preferred BI platform, making way for the consolidation of disparate enterprise data for heightened insights.
In light of present events, Call Journey's dedicated team of software data engineers are in the process of adding new search criteria and search frameworks into its ecosystem with regards to COVID-19. Soon to be added to Call Journey's comprehensive suite of search frameworks will be:
1. An enhanced employee engagement App, which further pinpoints their staff's level of engagement intraday, every minute, every call, every day.
2. A specific COVID-19 App, which allows customers to get a quick, real-time pulse on customer sentiment and emotion around COVID-19.
Call Journey also has key strategic partnerships with top providers of Customer Experience solutions, including Genesys and MICROSOFT, and has helped hundreds of businesses tap into their voice interactions and gather valuable insights in just a few clicks of a button.
About Call Journey
Call Journey is all about Voice Data. Our mission is to unlock every business conversation and add Voice into the Enterprise data mix. Our passionate Conversation experts bring together Natural Language Processing and Artificial Intelligence to create an industry-leading Conversation analytics ecosystem. Using this technology to harness the power of voice data, we're helping organizations find answers to some of their biggest challenges by delivering insights that directly impact customer experience, business performance, risk management & compliance. For more information, visit http://www.calljourney.com or follow us at our social media pages: LinkedIn, Twitter and Facebook.