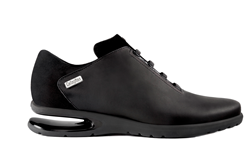 "The new Callaghan Adaptaction UP models are the result of an intensive research process with regard to design and the application of materials and technology" Basilio García, CEO
Milan, Italy (PRWEB) March 03, 2014
The Spanish company, Callaghan Adaptaction, will present its most innovative footwear line in terms of technology and design in Milan: "UP". Callaghan Adaptaction UP is a footwear model that conceptually does away with intermediate elements when it comes to ensuring height and fluidity.
The result of Callaghan's great footwear tradition, the new model combines the most innovative design and technology with Callaghan's traditional handmade craftsmanship.
In the words of Basilio García, the company's CEO, "the new Callaghan Adaptaction UP models are the result of an intensive research process with regard to design and the application of materials and technology. Design is not an exclusive aspect of prêt-à-porter brands and neither is technology the preserve of élite sports footwear. At Callaghan we apply the best design and technology to our creations and we understand that our customers deserve a product that is improved with each new collection we bring out. Our approach to business is to constantly question what we are doing.
In the past, we have developed products that are technologically different with regard to the prevailing trends, based on our definitive commitment to aspects such as comfort, ergonomics and design. UP is one of our products that is visually different and features qualities that are characteristic of our company."
UP adds a new dimension to the patented technology that is used in the majority of Callaghan's designs: Adaptaction, a technology designed by the company's engineers that achieves unique levels of comfort and adaptability in a series of casual urban footwear creations.
About Callaghan:
Callaghan Shoes is a leading Spanish company within the realm of footwear innovation. Founded in 1968, the company still pursues its primordial values: footwear creations finished by hand that are always made of leather and prime-quality materials. The brand's models seek to ensure comfort, without renouncing design. In this respect, they are created in conjunction with a team of bio-mechanics and foot specialists, who have even produced a line of high-heeled models that can be worn comfortably for many hours.
The Callaghan brand has enjoyed considerable growth in recent years, based on exports and/or the opening of self-owned establishments in Italy, China, Korea, Germany, etc. Today the company is one of the fastest-growing enterprises within the footwear industry.