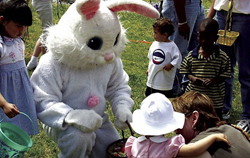 set out to find thousands of candy eggs, along with some very special prize eggs
Pine Mountain, GA (PRWEB) April 16, 2014
Enjoy Easter weekend with your family this year at Callaway Gardens® during the weekend of April 19-20, 2014. As in years past, Callaway Gardens has family-friendly activities planned for the whole weekend.
Family Activities
All ages are invited to participate in the Easter Egg Hunts on Saturday, April 19, from Noon to 5 p.m. on the lawn at Robin Lake Beach. Guests of all ages should bring an Easter basket and set out to find thousands of candy eggs, along with some very special prize eggs. The Easter Bunny will visit from Noon to 5 p.m. with whom boys and girls can have their Easter photo taken. The children can also enjoy the other festivities including the egg hunts, a DJ, face painting, balloon artist, sidewalk chalk art and more. Egg hunts are free with admission to Callaway Gardens.
The annual Easter Sunrise Service will be Sunday, April 20, at 7 a.m. on the ski pavilion on the west-side of Robin Lake Beach. Marc Pritchett of R.U.S.H. Ministries and Mountain View Baptist Church of Thomaston, Ga., will deliver the Easter Sunday message. The natural beauty of Callaway Gardens during the early morning hours serves as a magnificent backdrop to this service and beautiful music. Admission is free prior to 8 a.m. Guests should enter through the Beach gate on U. S. Hwy. 27.
Enjoy These Options for Easter Lunch
After the Sunrise Service, guests can enjoy one of Callaway Gardens' popular Easter meals choosing from dozens of delicious selections. The Callaway Gardens culinary team will have something to please every palate with choices from salt roasted prime rib of Angus Beef and Cajun spiced mahi mahi to roasted chicken with spring onions and sherry as well as a variety of other delectable brunch items. Guests may indulge themselves with desserts featuring peach crisp, sweet potato pie, pecan pie, New York Cheesecake and more.
The Easter Buffet in the Mountain Creek Inn Ballrooms will be from 11:30 a.m. to 3 p.m. for $34.95* per adult. A children's buffet will be available for $17.95* for children 6 to 12 years of age. For ballroom reservations, please call 1-800-CALLAWAY (225-5292) ext. 6832 or 706-663-6832.
The Gardens Restaurant will offer an Easter meal from 11:30 a.m. to 3 p.m. Guests may choose an appetizer, entrée and dessert from a prix fixe Easter menu for $50* per adult and $30* for children age 6 to 12. A special menu for children ages 5 and younger will be available. For reservations, please call 1-800-CALLAWAY (225-5292) ext. 6734 or 706-663-6734.
Details on Easter weekend are available online at http://www.callawaygardens.com/Easter.
Callaway Gardens is open daily from 9 a.m. to 6 p.m. Callaway Gardens' special event admission for Celebrate Spring! is $25/adult; $12.50/child (ages 6-12); and children 5 and under are admitted for free. Tax is included. Most activities occur from 11 a.m. to 4 p.m. on Saturdays. A small fee may be charged for some activities. An Annual Pass is a great way to enjoy Callaway Gardens' many events and seasons. For more information, visit http://www.callawaygardens.com/annualpass.
Make your reservations for Callaway Gardens' Celebrate Spring! weekends by calling 1-800-CALLAWAY (225-5292) or visiting http://www.callawaygardens.com. Overnight lodging, including in the renovated Mountain Creek Inn, is available for those interested in a quick getaway.
Callaway Gardens is in Pine Mountain, Ga., 60 minutes southwest of Atlanta and 30 minutes north of Columbus. For additional information, visit http://www.callawaygardens.com or call 1-800-CALLAWAY (225-5292).
###
*Taxes and gratuities are additional.
Easter Egg Hunt Schedule
1 p.m. Toddlers to 3-year-olds
2 p.m. 4- to 5-year-olds; 6- to 8-year-olds; 9- to 11-year-olds
3 p.m. 12- to -18-year-olds and Parents/Seniors
About Callaway Gardens
For 60 years, Callaway Gardens has provided "a place of relaxation, inspiration and a better understanding of the living world" for millions of visitors. Owned and operated by the non-profit Ida Cason Callaway Foundation, Callaway Gardens includes a garden, resort, preserve and residential community on 6,000 acres in Pine Mountain, Georgia. Highlights include a zip line/obstacle course, butterfly conservatory, horticultural center, discovery center, chapel, inland beach, nature trails and special events throughout the year.
In addition, Callaway Gardens offers nearly 80,000 square feet of meeting space, 684 guest rooms, restaurants, shops, golf, tennis, fishing and more.
Five unique, close-knit residential communities – with custom home sites, lakefront properties and cottages on the golf course – offer an ideal home away from home or full-time residence.
Callaway Gardens is home to a forest preserve which is under conservation easement. This conserved, sustainably-managed land is used for biological studies and environmental education programs.