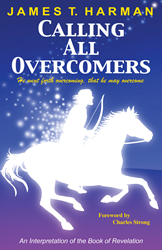 This timely commentary will spark a renewed interest in this most important and intriguing book of prophecy.
Orlando, FL (PRWEB) April 29, 2015
Most people are perplexed by the book of Revelation. Many are not sure what all the signs, symbols and metaphors really mean. 'Calling All Overcomers' helps unravel Apostle John's remarkable revelation and shows what's in store for the inhabitants of planet Earth. This uncommon commentary is not just another cookie-cutter, rehash of the popular teachings fostered by the Left Behind phenomena so prevalent in today's church. Readers will be astonished to discover the many traditions they have been taught may be entirely different as events in the Middle East and around the globe unfold in these trying and uncertain times.
This unique book outlines 7 strategic sections of John's vision that are further divided into 7 segments. The reader will come away with an entirely new understanding and appreciation of what the last book in God's Word is all about. In addition, it will help prepare the reader for the scores of events that are about to develop as the prophetic landscape unfolds. The book of Revelation does hold the secret of America's future, the future of the world and the reader's future, as well.
This timely commentary will spark a renewed interest in this most important and intriguing book of prophecy. Readers will discover that the book of Revelation was meant to be a source of hope and comfort for the days ahead.
For more information contact:
James T. Harman
Prophecy Countdown Publications
P.O. Box 941612
Maitland, FL 32794
(407) 808-7646
JamesTHarman(at)aol(dot)com
About Jim Harman
Jim Harman has been a Christian for 37 years. He has diligently studied the Word of God with a particular emphasis on Prophecy. He began Prophecy Countdown Publication in 1989 to help prepare the Church for events prophesied to occur during the end times. He has authored 14 books that have been widely distributed across the United States and around the world. Jim's early ministry included appearances on numerous radio and television programs across America and he has shared the stage with some of the leading prophecy scholars and teachers of our day. Jim loves to encourage people to dig-deep into the Scriptures and is passionate about preparing them to be ready for what God's Word predicts to occur.
About eBookIt.com
Since 2010, eBookIt.com (based in Sudbury, Massachusetts) has helped thousands of authors and publishers get their books converted to ebook format, and distributed to all the major ebook retailers, including Amazon.com, Barnesandnoble.com, Apple iBookstore, Kobo, Sony Readerstore, Ingram Digital, and Google eBookstore.