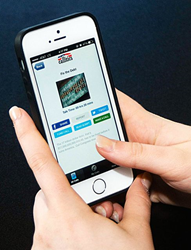 The most effective way to be heard is to pick up the phone.
Peoria, IL (PRWEB) June 04, 2014
A new smart phone app launched by start-up, Callitics, seeks to solve American problems with government. With their software, anyone becomes a lobbyist to change any law they want, on any level. Lobbying a local mayor is now as easy as lobbying Senators with the Callitics app. And like most apps, the price of being a lobbyist is going down. Cheaper than postage, a landline, or sophisticated software, now anyone can become a powerful agent of change with Callitics' new viral calls.
"We've brought the price down, but amped up the function. And we consider this a beta," says Henry Getz, co-founder of Callitics.
Co-founder, Thomas Howard explained how they came up with the idea. "Congress tried to default on the full faith and credit of the United States. As a bank attorney and an entrepreneur, I find that extremely dangerous." From there, they came up with the idea of viral calls.
"Everyone cried out for change, but nothing more," said Howard. "We saw the chance to bring disruptive technology where it is most needed, the gridlock of Washington, D.C."
For all who have a gripe with those in power, for those who demand change, try Callitics to solve the problems in Washington, DC.
Callitics brings power back to the people.