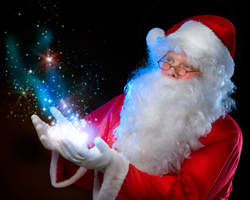 Jupiter, Florida (PRWEB) December 04, 2014
Winter is officially here which means the best holiday of the year, Christmas, is right around the corner. DialMyCalls, a web-based mass notification system, will once again help spread holiday cheer to as many kids as possible by connecting them with "Santa". For the fourth year in a row children all across the United States will be able to receive a personalized phone call from "Santa Claus", the beloved Christmas character that is cherished all around the world.
During the 2013 Christmas season "Santa Claus", with the help of DialMyCalls' staff, was able to send out approximately 60,000 personalized Santa Calls that had children grinning from ear to ear. Today, December 4, 2014, has been marked on Santa's calendar since last year as the day he will start making calls to kids that have been good over the past year.
"We are thrilled to be able to help kids connect with 'Santa Claus' for the fourth year in a row" says CEO David Batchelor. "Our Santa Calling event started as a way to give back to our local Jupiter, Florida community and has quickly grown into an annual tradition enjoyed by children all across the United States."
Parents of each household are able to select a child's name from a list that DialMyCalls has generated and "Santa Claus" will send that kid a personalized greeting via the company's mass notification platform. The 2014 Santa Calls event is now live and every person that signs up will be able to send out three greetings for free – additional calls from "Santa" are able to be purchased for a nominal fee.
Help DialMyCalls spread some holiday cheer this Christmas by setting up a unique call from "Santa Claus" for your kid(s).
About DialMyCalls
DialMyCalls.com was founded in 2006 and offers an extremely efficient and affordable mass notification system. After three successful years of spreading holiday cheer with personalized calls from Santa Claus, the company hopes that the 2014 Christmas event will reach even more children across the United States.
For more information, please visit http://www.dialmycalls.com or call 800-928-2086. You can also email tsmith(at)ontimetelecom(dot)com for additional information.
###