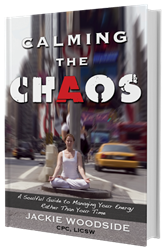 How you spend your time is how you spend your life.
(PRWEB) April 07, 2015
Chronic busyness and overwhelm are flagship characteristics of contemporary culture. Jackie Woodside, a certified professional coach, licensed psychotherapist and published author, understands the challenges that we face today with information overload, accelerating pace of communication exchanges and the continued stress of being working parents, who are also caring for aging parents. Living in this exact circumstance, Jackie's new book focuses on dealing with these everyday difficulties by exploring the mindset and the skillset that we bring to modern life.
In her new book, Calming the Chaos launching April 7th, 2015, Jackie addresses these issues in a deep, profound and yet practical way. Filled with new concepts such as, what energetic consciousness is and how it impacts our daily life, why there is no such thing as time management and how to stop the mind-numbing cycle of over-committing and procrastinating. The book has readers develop the courage to take control of their lives and find fulfillment in what they are doing.
"How you spend your time is how you spend your life," Jackie says. In Calming the Chaos, she works to help people choose what to spend their time on in order to increase their satisfaction in their lives. Her method is part philosophy and part psychology, but rather than being a purely theoretical approach, Jackie provides a step-by-step process that readers can incorporate into their everyday lives. She gives readers numerous specific actions to take and skills to develop that will greatly improve their productivity and peace of mind.
Calming the Chaos is available for purchase at http://amzn.to/1FwjDnj.
Jackie Woodside
Jackie Woodside is a passionate teacher and speaker who ignites her audiences with the flame of possibility for improving the life they are living. Jackie is the creator of The Curriculum for Conscious Living which is designed to walk people through a step-by-step process to bring their life into the exact image they carry in their mind, while totally re-working their inner landscape with her cutting edge teaching on energy and consciousness.
Jackie is the Amazon Best Selling author of, "What If It's Time for a Change…?", as well as a contributing author in the award- winning book "Conscious Entrepreneurs."
Jackie is the embodiment of vibrant talent coupled with extensive experience. She is a licensed psychotherapist, Certified Professional Coach (CPC), and Energy Leadership Master Practitioner (EL-MP) and has spent the last two decades using her deep understanding of human development to aid others through speaking, coaching, and training, as well as using her fluency in American Sign Language to work as a therapist, manager, and consultant for the Deaf Community in Massachusetts. Jackie knows that honoring one's deepest desires and listening to that inner voice is the best way to live a life of passion and purpose. She believes spirituality is an art: one must learn to practice practicality while still bringing their spiritual self to all aspects of their life. Jackie holds a Masters Degree in Clinical Social Work from Boston College and is a certified professional coach by the Institute for Professional Excellence in Coaching (IPEC).