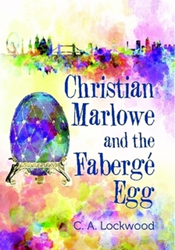 LONDON, England (PRWEB) March 04, 2016
In "Christian Marlowe and the Fabergé Egg" (published by Lulu), adventure starts with a boring family trip to London. When Welsh teen Christian (or Kit, as he's known to family, friends and enemies) Marlowe's family disappears on a holiday, he discovers that his parents have been keeping secrets from him.
Recruited into SPYS, a school that has been training the descendants of Britain's most famous families, Kit falls foul to Russian oligarch Mikhail Pasternak. Pasternak's loathing of the western world is leading him to create a personal army, the Legion of Death, with the intention of wiping out western civilization and beginning a new and sinister regime.
With Kit's friends' – Abi Newton, Max Faraday, Katie Cook, Eddie Austen and Leila Wedgewood – help, can they stop Mikhail before it's too late? And what does a Fabergé egg have to do with Mikhail's plans?
Follow Kit's adventure, which is complete with comedy, twists, adventure and action. Written by C. A. Lockwood for young adults ages 12 and up, this novel will appeal to parents and teachers, too, by the way it weaves British historical facts into the imaginative story, according to the author.
"Christian Marlowe and the Fabergé Egg"
By C. A. Lockwood
Softcover | 5.83 x 8.26in | 304 pages | ISBN 9781483445175
E-Book | 304 pages | ISBN 9781483445168
About the Author
C. A. Lockwood is the writing partnership of two sisters, Christine and Alison. They are both medically trained and live in England. This is their first novel and part of a trilogy.
Lulu empowers people of all ages to explore and express their interests, passions and expertise through books, photography and art. Since introducing self-publishing in 2002, Lulu has empowered creators in more than 225 countries and territories to produce nearly two million publications. Lulu Jr. allows children to become published authors, encouraging creativity, strengthening literacy and building self-esteem. Picture.com offers professional photography of collegiate and professional sports, memorable and historic events, fine art and home décor. For more information, please visit lulu.com.