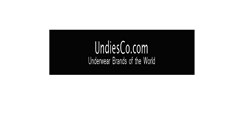 London, UK (PRWEB) September 25, 2014
Solidifying their position as a leading provider of under garments from eminent brands, UndiesCo.com is now offering Calvin Klein Underwear in UK. The company proudly announces the availability of the range of Calvin Klein Underwear in UK. Now one can purchase this brand directly from their website without any kind of hassle. They store some of the finest collection of Calvin Klein Underwear that gives heightened comfort and style. With them, one will get varied pattern, size and colour of the Calvin Klein range underwear in just one single website. Calvin Klein 3 Pack Trunks, Calvin Klein Cotton Stretch Trunks 3 Pack, Calvin Klein 3 Pack Brief, Calvin Klein One Cotton Trunk are just a few to name from the long list of Calvin Klein Underwear range. In addition to the underwear, the company also offers Calvin Klein T-shirts, and Calvin Klein bottoms at reasonable prices.
The company also brings a wide range of elegant and cost-effective Sloggi underwear. Sloggi is a brand which rules common name among women who prefer elegance, feminism and fashion, all at once. Their bras and panties are designed to give the epitome style and comfort. Made from the finest fabrics, these undergarments set class apart.
Talking more about their products, one of their representatives stated, "Their bras and panties are a unique combination of classic cuts and modern styles. Made from fine-grade and ultra-soft fabrics, this everyday collection is perfect for a comfortable and luxurious wear. These lightweight and breathable fabrics offer quality, style and comfort, emphasizing the natural curves of the body perfectly. Our range of trendy Sloggi underwear features great and elegant designs using advanced stitching technology. The collection includes new styles and attractive designs to suit the changing fashion."
About UndiesCo.com
Bold and fashion forward, UndiesCo.com brings a luxurious collection of men's & ladies underwear. From sensual knickers to attractive designs, they present the customers an assortment of global brands of undergarments. Fashion is incomplete without a pair of stunning and attractive underwear. Gear up for any event with these exclusive pieces of intimate garments for a sensual experience. They present top-notch underwear brands of the world like Calvin Klein, Sloggi, Triumph, and more.
For more information, please visit http://www.undiesco.com
Follow UndiesCo.com on Google, https://plus.google.com/107299083367718887606
Google local listing of UndiesCo.com: https://plus.google.com/118004254392222755907
Join UndiesCo.com on Facebook: https://www.facebook.com/pages/Undiesco/682116861799039?ref=stream