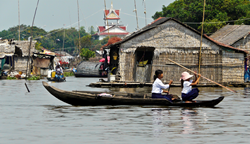 Narca Moore-Craig draws travelers who wish to experience nature in its fullest, she provides exquisite detail. - past traveler with Naturalist Journeys
San Francisco, California (PRWEB) May 23, 2014
Professional ornithologist Narca Moore-Craig, alongside local experts, will lead travelers into the depths of the Cambodian wilderness on a ten-day excursion from January 5-16, 2015. As a Naturalist Journeys' guide who has led expeditions on six different continents, Moore-Craig assisted a colleague stationed in Cambodia to train local birding and nature tour guides, as Cambodia continues to open up to ecotourism. Moore-Craig's intimate knowledge of the country enhances the tour experience as visitors travel through cities, villages, and Cambodia's vast jungles teeming with rare wildlife. Moore-Craig, about to retire after over thirty years of guiding, kept this tour as one of the last she will lead, saying, "I'm so enthusiastic about what is happening in this country. It is one of the wildest places left in Asia, with forest and wetland habitats intact. I want to help ecotourism grow for these talented young biologists, to help them keep it this way."
Naturalist Journeys' Cambodia Nature and Birdwatching tour begins in the vibrant city of Siem Reap, the gateway to Cambodia's ancient temples. From here, the group will explore the time-worn ruins of Angkor Wat, surrounded by Black Bazas, Hainan Blue Flycatchers, and possibly other rare or colorful birds. Over the coming days, participants will set sail for the floating village of Prek Toal, interact with villagers who protect Giant and White-shouldered ibises, and attend a feast at the Veal Krous Vulture Restaurant, where locals feed rare vultures carrion to support their clean-up role in the ecosystem while also creating income for the local community.
Naturalist Journeys is a leader in sustainable ecotourism, using travel as a way to promote conservation and help impoverished communities find sources of income. This approach continues in Cambodia. Moore-Craig explains, "Cambodia excels at meshing conservation with nature tourism, for the direct benefit of local communities – achieving possibly the most successful effort of this kind, anywhere in the world. Funds generated by ecotourism have enabled villages to dig wells for access to clean water, construct schools, maintain roads and bridges, and build health clinics. In return, the villagers have become the guardians of some of the most critically endangered birds anywhere on earth."
An optional trip extension, from January 15-19, will give Naturalist Journeys' Nature and Birding Tour participants the opportunity to visit the Mekong River and Seima, with the chance to see rare Irrawaddy Dolphins as well as diverse bird populations.
Find full details of Naturalist Journeys' Cambodia's Angkor Wat, Nature & Birding Tour at: http://www.naturalistjourneys.com/jcalendar/jc_cambodia15.htm.
More about the January 5-16 Cambodia Nature and Birding Tour:
This guided eleven-day small-group nature and birding tour begins and ends in Siem Reap, Cambodia and is limited to 10 participants. Expert guides enhance learning while enjoying nature and culture in the diverse landscapes of Cambodia.
More about tour guide Narca Moore-Craig:
Narca Moore-Craig has led natural history and birding tours to six continents for over twenty years, for clients including the Smithsonian Institution and the Harvard Museum of Comparative Zoology. A past president of Western Field Ornithologists, Narca conducted research on birds of the New Mexico¹s Gray Ranch, not far from her home in Portal, AZ. Her award-winning art has appeared in numerous field guides and books, including A Natural History of the Sonoran Desert and A Birder¹s Guide to Southeastern Arizona. She writes extensively about Cambodia on her Blog, Art and Other Adventures with Narca.
More about Naturalist Journeys:
Naturalist Journeys LLC, a top birding and nature tour company, offers specialty small group tours and travel worldwide, from the western U.S. to Alaska, Hawaii and Florida, Costa Rica, Panama, safaris in Africa and more. Naturalist Journey's guided nature and birding tours feature expert guides with decades of experience in bird-watching, travel photography and other forms of eco-tourism. Naturalist Journeys also offers hiking and adventure travel tours in many national parks and wildlife reserves, including the Galapagos, Antarctica and the Amazon.