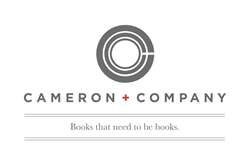 "We are thrilled to be collaborating with MoAD on the publication and distribution of their books as we work together to build upon their important mission of connecting all people through their shared African heritage."—Chris Gruener, Cameron publisher
PETALUMA, Calif. (PRWEB) October 22, 2018
Cameron + Company, publisher of quality books with a focus on photography, art, food and wine, children's, and publications of regional interest, is pleased to announce a new partnership with the Museum of the African Diaspora (MoAD) on a series of art books. These publications reflect MoAD's mission as a contemporary art museum that celebrates Black cultures, ignites challenging conversations, and inspires learning through the global lens of the African diaspora. MoAD's commitment to showcasing the African diaspora through art, presented with the highest aesthetic standards, aligns perfectly with Cameron + Company's dedication to publishing "books that need to be books." Celebrating the distinction of such an alliance, Publisher Chris Gruener says, "We are thrilled to be collaborating with MoAD on the publication and distribution of their books as we work together to build upon their important mission of connecting all people through their shared African heritage."
Our first set of publications is a trilogy of books that highlight the exceptional past, artistic present, and groundbreaking future of the museum. "Cameron + Company takes experience, history, multiple disciplines, vibrancy, relevance, and more to produce stunning books that provide a lasting legacy to the MoAD mission," says Cameron Creative Director Iain Morris.
Artists and topics featured include:

Toyin Ojih Odutola's solo exhibition, A Matter of Fact, which showcases the work of the Nigerian-born New York artist, inviting us to consider the social construct of class within the intersection of race, identity, sexuality, and gender. Ojih Odutola had her first major museum solo exhibition at MoAD, which was followed by a solo exhibition at the Whitney Museum of Art in New York City in early 2018. "We and the museum are beyond excited to give fans of this quickly rising artist the chance to own a part of not only our history, but art history, as it happens," says Mark Sabb, director of marketing and communications at MoAD.
The next book in the series, Ficre Ghebreyesus: City with a River Running Through, is from an exhibition currently on view at MoAD that features the work of Eritrean-American artist Ficre Ghebreyesus. Highlighting his evocative, often surreal landscapes, which convey myriad influences, from the craft markets of Eritrea to the musical polyrhythms of the Black diaspora, the work addresses the forces that shaped the artist's life. The book includes an essay by Ghebreyesus's wife, Elizabeth Alexander, a world-renowned poet and president of the Mellon Foundation, who wrote the best-selling memoir, The Light of the World, about Ghebreyesus after his death. "Ghebreyesus's life and work speak so deeply about African diasporic experiences in our very recent past to today. More often we think about West Africa. But Ficre's life and work reminds us of the essential nature of the entire continent and life in East Africa, the Horn of Africa, and its adjacencies in the Middle East. Then there are his travels through Europe and the United States. It is the textured geographies and the navigation of cultural exchange within diaspora that we all share. The artist evokes this spirit so beautifully, especially through his vivid use of color and by choosing water and the voyage as consistent themes in his work," says MoAD CEO-Director Linda Harrison.
The third in the series, Coffee, Rhum, Sugar & Gold, which coincides with the museum's first original touring exhibition, explores the legacy of European colonialism in the Caribbean through the work of nine contemporary artists—Angel Otero, Adler Guerrier, Phillip Thomas, Leonardo Benzant, Lucia Hierro, Lavar Munroe, Andrea Chung, Ebony G. Patterson, and Firelei Báez. Whether connected to the Caribbean by birth or focused on the region by choice, the exhibiting artists use their work as a means of examining the relationship between the power structure, those who are controlled by it, those who benefit from it, and those who actively seek to liberate themselves from it.
Cameron + Company is delighted to build on this partnership with the Museum of the African Diaspora, which is an exciting and natural collaboration between a San Francisco–founded art publisher and a contemporary art museum that celebrates artistry and personhood.
About Cameron + Company
Founded in 1964 by aerial photographer Robert Cameron, Cameron + Company is a boutique publishing house that creates and distributes books that need to be books, with a focus on photography, art, food and wine, children's, and publications of regional interest. Visit us at http://www.cameronbooks.com. 
For more information, please contact:
Chris Gruener, Cameron + Company
707.559.5794; chris@cameronbooks.com
About MoAD
Opened in 2005 in San Francisco's Yerba Buena arts district, MoAD, a contemporary art museum, celebrates Black cultures, ignites challenging conversations, and inspires learning through the global lens of the African diaspora.
For more information about MoAD, visit The Museum's website at moadsf.org.
For media information or visuals, visit their online press gallery or contact:
Mark Sabb
Director of Marketing and Communications
415.318.7148
msabb@moadsf.org
Online http://moadsf.org/press-center/
General Information
The Museum is open Wednesday–Saturday 11am–6pm and Sunday 12–5pm. Museum admission is $10 for adults, $5 for students and senior citizens with a valid ID. Youth 12 and under always get in free. For general information, the public may visit the museum's website at moadsf.org or call 415.358.7200. MoAD is located at 685 Mission Street (at Third), San Francisco, CA.