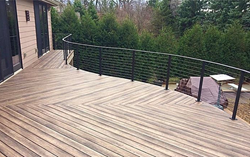 Customers want a polished look and don't want to see fasteners on their deck surface which is the purpose of CAMO Edge Fastening--Brian Jacobson, owner, 4 Quarters Design & Build
Grand Rapids, MI (PRWEB) September 13, 2017
Brian Jacobson, owner of 4 Quarters Design & Build, has selected the CAMO® Edge Fastening System on all of his deck projects throughout the Minneapolis - St. Paul metropolitan area in Minnesota. The company's core business is designing and building outdoor living spaces with a focus on elaborate deck projects full of design features that bring the comforts of the indoors to the outside. Jacobson believes the foundation of good design is practical, livable function which is enhanced by using the CAMO fastening system.
The company uses the CAMO® Marksman Pro on a variety of deck board types, such as cedar, ipe, or any PVC or capped polymer plank. "This system produces an attractive, secure, fastener-free surface solution that replicates indoor flooring," said Jacobson. "Customers want a polished look and don't want to see fasteners on their deck surface which is the purpose of the edge fastening."
Jacobson said he and his crew will forego grooved planks and many of the hidden fastening systems on the market and opt for square edge planks and CAMO at every opportunity. "It's just easier, faster and you get a more secure, stable board," he added.
Jacobson pairs the CAMO Marksman Pro® with AZEK® capped polymer and TimberTech® composite decking to ensure efficient installations with a smooth, fastener-free finish. The automatic spacing provided by CAMO makes for a very uniform surface with no pre-drilling. According to National Nail, CAMO's manufacturer, the company now offers an extended warranty to cover deck boards in addition to the screws, for added assurance and confidence in installing CAMO with any decking type—wood, composite or PVC.
"The brilliance of the CAMO Edge Fastening system is its simplicity," said Jacobson. "The system is foolproof, easy to install and easy to service. I will bet after using it for the first time, many builders asked, 'why didn't I think of that'?"
AZEK® and TimberTech® are registered trademarks of CPG International LLC and are unaffiliated with CAMO® or National Nail Corp.
About CAMO Edge Fastening
CAMO Edge Fastening™ from National Nail delivers beautiful, fastener-free, Barefoot Approved™ results with virtually any wood, composite or PVC decking. CAMO® offers a variety of guides, fasteners, and accessories, as well as a collated system to suit project requirements. For more information or to locate a dealer, visit CAMO Fasteners or call 1-800-968-6245. Be sure to "Like" CAMO® Fasteners on Facebook.