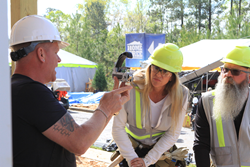 We feel that our CAMO Edge Fastening System was a good fit for the high-energy, fast-paced build and helped to get the decks ready on time.-- Scott Baker, president and CEO, National Nail
Grand Rapids, MI (PRWEB) July 13, 2016
The CAMO Edge Fastening system will be featured on the unscripted competition series Home Free, which has returned for an inspirational second season on FOX-TV. CAMO Edge Fastening is used to fasten all four of the show's decks, including the deck attached to the bunkhouses in which the contestants stay. The unique system fastens the deck boards on the edge for a stable, safe fastener-free deck surface.
While less costly than other hidden fasteners, CAMO Edge Fastening has also been proven to speed up the overall installation process by up to 50 percent. The product line's CAMO Edge Deck Screws and CAMO Marksman Pro®-X2, work very well with the show's featured AZEK Decking, a capped polymer deck board and will be featured in multiple episodes throughout the season.
"We are very pleased to be part of Fox's Home Free, which is an immensely popular prime-time show that reaches home enthusiasts," said Scott Baker, president and CEO, National Nail. "We feel that our CAMO Edge Fastening System was a good fit for the high-energy, fast-paced build and helped to get the decks ready on time."
CAMO Edge Fastening'delivers beautiful, fastener-free, Barefoot Approved™ results with virtually any wood, composite or PVC decking. With the CAMO® Marksman Pro-X2 or other CAMO guides, users can quickly and easily deliver CAMO Edge Deck Screws into the edge of solid or grooved deckboards for fast installations.
In Season Two of Home Free, the contestants won't compete for themselves. Contestants will compete to win a Dream Home for their personal heroes. In addition, former NFL player, Heisman Trophy winner and sports analyst Tim Tebow will take the game to a new level as co-host alongside famed professional contractor Mike Holmes.
Each week, Holmes and Tebow will challenge and motivate the contestants to build a new home, testing their skill levels, will and strategy. The contestants who work the hardest for their heroes move forward, while the contestant who doesn't perform up to code faces elimination. Holmes and Tebow will be with the competitors every step of the way – picking apart their work and demanding they meet their high standards, while also sharing their expertise and guidance to help them reach new heights. When only two remain, they will fight to the finish to win their heroes the ultimate Dream Home. The winning contestant will also take home $100,000 for themselves.
Home Free is produced by Critical Content and executive-produced by Tom Forman, George Verschoor, Brad Bishop, Andrew Marcus and Mike Holmes. The series will be distributed internationally by ELECTUS.
For more information about CAMO Edge Fastening or to locate a dealer, visit http://www.camofasteners.com or call 800-968-6245.