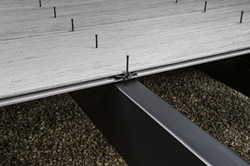 "EDGEXMETAL Clips emerged as a solution to the remodeling challenges faced over the last year, allowing builders dealing with lumber and labor shortages to efficiently install metal-framed decks and provide customers with long-lasting outdoor living spaces." -- W. Scott Baker, CEO, National Nail
GRAND RAPIDS, Mich. (PRWEB) July 26, 2022
National Nail's CAMO® brand of tools and fasteners for deck builders announces its EDGEXMETAL® Clips for fastening grooved decking on metal substructures were selected as a trending product in Qualified Remodeler magazine's 2022 Remodelers' Choice. Featuring Qualified Remodeler's 100 most requested products based on the number of pageviews each generated over the past year, the Remodelers' Choice 100 represents emerging trends in the remodeling industry.
"The CAMO team is excited to see EDGEXMETAL Clips named as a trending product of Qualified Remodeler's 2022 Remodelers Choice 100," said W. Scott Baker, CEO, National Nail. "CAMO EDGEXMETAL Clips emerged as a solution to the remodeling challenges faced over the last year, allowing builders dealing with lumber and labor shortages to efficiently install metal-framed decks and provide customers with long-lasting outdoor living spaces."
CAMO EDGEXMETAL Clips offer deck builders an innovative solution for efficiently fastening grooved decking to metal substructures. Similar to CAMO EDGEX® Clips for wood-framed decks, EDGEXMETAL Clips require no partial installation thanks to wings that grip the board's grooves, allowing contractors to line up rows of clips and boards before fastening in a single pass. Each clip has a stainless-steel gusset that holds the boards down to reduce lateral movement and a drill point screw that engages quickly.
Available in 90ct and 450ct pails, every pail of EDGEXMETAL Clips includes CAMO's NEVER-MISS™ Guide for installations up to 2X faster than traditional methods. Or, for even greater efficiency, builders can fasten up to 5X faster with the CAMO DRIVE™ or ClipDRIVE™ stand-up fastening tools and reduce time and labor with the CAMO LEVER® board bending and locking tool. EDGEXMETAL Clips are backed by a CAMO warranty to match the longevity of the boards and substructure, when installed according to CAMO guidelines.
Read about the Qualified Remodeler "Remodelers Choice 100" and learn more about CAMO's deck fastening solution at http://www.camofasteners.com
About CAMO
CAMO exists to provide the best deck fastening installation experience for hardworking doers who take pride in their work and value their wallets. That's you. Whether you install decks for a living, offer to help build them with a buddy, or maybe build just one in your lifetime, CAMO products are engineered to save you time and ensure your work looks and performs as you expect it should. CAMO. The Better Way to Build a Deck. For more information or to locate a dealer, visit http://www.camofasteners.com or call 1-800-968-6245. Be sure to "Like" @camofasteners on Facebook and @camodeckfasteners on Instagram. Search CAMO Fasteners on YouTube to find our channel or check us out on Pinterest.