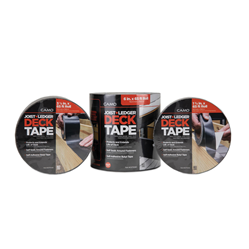 "Along with loading up on all of your crew's CAMO tool and fastener needs, builders can now add CAMO Joist + Ledger Tape to their tool kit for that extra layer of protection on joists and ledger boards." -- Doug Hutchings, Vice President of Product Development, National Nail
GRAND RAPIDS, Mich. (PRWEB) March 22, 2023
National Nail's CAMO® brand, which continues to take product innovation to new levels with deck tools, deck fasteners and CAMO Structural Screws, now introduces an added layer of protection for the deck substructure, with CAMO Joist + Ledger Deck Tape.
"Along with loading up on all of your crew's CAMO tool and fastener needs, builders can now add CAMO Joist + Ledger Tape to their tool kit for that extra layer of protection on joists and ledger boards," said Doug Hutchings, Vice President of Product Development, National Nail. "It provides a better way to build, with a barrier to moisture so the substructure lasts longer, especially when coupled with the long-life synthetic decking now available."
Made in the USA, the self-adhesive butyl tape creates a waterproof membrane to protect wood deck framing against moisture, which can lead to rot. It self-seals around fasteners, blocking the pathway of water into wood. Apply CAMO deck tape to the top of joists and ledger board, between joist hangers and ledger board, between rim joists and fascia, and between framing and joist hangers.
Securely bonding to wood framing, one 65 ft. roll of CAMO Joist + Ledger Deck Tape covers approximately 75 square feet of deck framing. The tape is available in three sizes: 1-5⁄8-inch width for single joists to fully cover tops of 2x wood joists; 3-1⁄8-inch width for use with double joists; and 6-inch width ideal for ledger and rim joists.
CAMO Joist + Ledger Deck Tape is backed by a 20-year Limited Warranty. Click here to learn more about CAMO Joist + Ledger Deck Tape.
About CAMO
CAMO exists to provide the best deck fastening installation experience for hardworking doers who take pride in their work and value their wallet. CAMO products are engineered to save you time and ensure your work looks and performs as you expect it should. CAMO®. The Better Way to Build a Deck. For more information or to locate a dealer, visit the CAMO Fasteners website or call 1-800-968-6245. Be sure to "Like" @camofasteners on Facebook and @camodeckfasteners on Instagram. Search CAMO Fasteners on YouTube to find our channel.