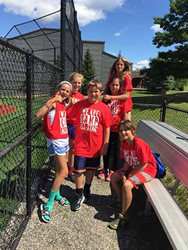 We feel lucky to have found Camp All-Star. Our boys got a chance to play the sports they love.
San Rafael, CA (PRWEB) November 04, 2016
Camp All-Star is a unique gem within the US Sports Camps network. With customizable schedules and over 30 sports and activities to choose from, Camp All-Star is the highlight of the summer for many children from all around the world. Entering its 15th year, camp will operate for 5 weeks in 2017. Campers can attend any number of weeks. Adventure trips like whitewater rafting, whale watching, and deep sea fishing are planned for children who stay for multiple weeks.
Camp sessions run for 5 consecutive weeks: June 25 through July 29. Something to note: 2017 rates have actually decreased, making attendance more affordable with absolutely no compromise in quality. This year, Camp-All Star will add to its gamut of activities, which are aptly named All-Star skills, with paddle boarding and yoga. Other All-Star skills include Canoeing & Kayaking, Arts & Crafts, Fishing, Dance, Swimming, and Archery. Campers get to experience these options in addition to the sports they focus on weekly, like soccer, basketball, golf, and ice hockey.
The summer overnight camp program, hosted at Kents Hill School, a co-educational college-preparatory school on nearly 600 acres, is the beautiful setting which hosts Camp All-Star each year. Located in the Belgrade Lakes region of Maine, it offers picturesque views, fantastic weather and well-maintained athletic equipment and facilities. The on-campus Alfond Athletics Center offers a NHL-size ice rink, large gymnasium, state-of-the-art fitness center, and rock climbing wall. Campers are housed in same-sex campus dorms with 1-2 roommates their age and dine in the on-campus dining hall.
Highlights of camp include weekly outdoor barbeques, carnivals, camper Olympics and more. Camp staff arrives at camp one week prior to check in to ensure all is ready for campers to have an unforgettable summer experience. One family from Wilton, CT said, "We feel lucky to have found Camp All-Star. Our boys got a chance to play the sports they love, enjoy new activities and experience summer camp life with a well-qualified staff of counselors and coaches that seem truly interested in making a positive impact in my sons' lives."
Camp All-Star is available to children ages 8-16. Campers are encouraged to select 1-3 major sports they want to focus on, and can select multiple other activities as well. Camper to coach ratios are extremely low, at 4 to 1, ensuring each child receives individual attention.
Registration for summer 2017 is open now. Additional details about camp and registration can be found at http://www.campallstar.com or by calling 1-800-645-3226.
About US Sports Camps, Inc.
US Sports Camps (USSC), headquartered in San Rafael, California, is America's largest sports camp network and the licensed operator of Nike Sports Camps. Over 80,000 kids attended a US Sports Camp program in 2016. The company has offered summer camps since 1975 with the same mission that defines it today: to shape a lifelong enjoyment of athletics through high quality sports education and skill enhancement.