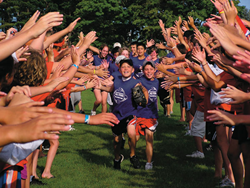 We are thrilled to be associated with US Sports Camps.
San Rafael, CA (PRWEB) March 12, 2015
Camp All-Star operates for six weeks in June, July and August. Each summer, they offer hundreds of boys and girls the best combination of a traditional outdoor "sleepaway" camp and serious sports training in some of the country's most popular sports: ice hockey, basketball, tennis, soccer, lacrosse, field hockey, swimming, baseball, and golf.
Craig Rosen, owner of Camp All-Star, comments, "We are thrilled to be associated with US Sports Camps, operator of the Nike Sports Camps. USSC has a national and global reach which will raise the visibility of Camp All-Star as a unique destination sports camp. US Sports has been a pioneer in high quality sports coaching and training for over 40 years with an impressive dedication to the development of young athletes worldwide. We are proud to be part of the US Sports network of camps"
For information on Camp All-Star multi-sport camp, please visit ussportscamps.com/multisport/camp-all-star or call 1-415-451-2233.
About US Sports Camps
US Sports Camps (USSC), headquartered in San Rafael, California, is America's largest sports camp network and the licensed operator of NIKE Sports Camps. The company has offered summer camps since 1975 with the same mission that defines it today: to shape a lifelong enjoyment of athletics through high quality sports education and skill enhancement.