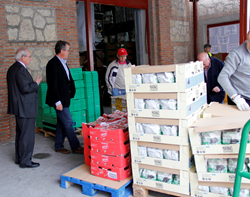 We saw the impact the economic crisis was having on Spain through the eyes of our artisan producers and their families, and we were so happy to be able to help.
Williamsburg, VA (PRWEB) June 03, 2014
Importing the deepest selection of gourmet foods from Spain since 1996 is only one part of La Tienda's mission. The company is also deeply passionate about supporting family-owned businesses, treating customers and employees like family, and spreading the word about the culture, values and traditions of Spain.
When the economic crisis in Spain began, La Tienda owners Tim, Jonathan and Don Harris were deeply concerned. Given their strong personal relationships with the many small Spanish vendors and the shared love of Spain with their tens of thousands of customers, they knew they were in a unique position to help.
In Fall of 2012, La Tienda launched a fundraising campaign to benefit an organization that could impact Spain on a national scale and make a substantial difference in the lives of those families who were struggling most. The business selected the Spanish Federation of Food Banks (FESBAL), which coordinates the efforts and activities of fifty-four localized food banks across all of Spain.
La Tienda began its Campaign for Spain in November of 2012 and to date, the company has raised over $68,000 in donations. "We saw the impact the economic crisis was having on Spain through the eyes of our artisan producers and their families, and we were so happy to be able to help," noted CEO, Tim Harris. Visitors to the site donate directly to the Campaign for Spain, no purchase is necessary. 100% of the money raised goes to FESBAL. There are no administrative fees taken by La Tienda.
Since its inception, La Tienda has supported local food banks in Virginia and continues to do so. In addition, La Tienda donates annually to a variety of charitable organizations in support of the Williamsburg community. "We are so pleased that the 'Campaign for Spain' has been an equally successful international effort and we are grateful to everyone for their generosity and kindness," added Harris.
###
Founded in 1996 by the Harris family, La Tienda is the leading online retailer of Spanish gourmet food, offering over 800 authentic products. Family-owned and managed, the business is dedicated to working with artisan and small family businesses in Spain.
La Tienda is headquartered in Williamsburg, Virginia, with its Spanish operation based outside of San Sebastian, Spain. Warehouses in Virginia and Alicante, Spain, ship throughout the United States, Puerto Rico, and Canada. La Tienda shipped to over 100,000 customers in 2013, including restaurants and renowned chefs. Its first retail store opened in Williamsburg, VA in November of 2009.
In 2011, La Tienda received the Outstanding Workplace Education Partnership Award from the Virginia Association for Adult and Continuing Education (VAACE). In spring of 2012, La Tienda was honored with the national award for Outstanding Workplace of the Year from the Commission on Adult Basic Education (COABE).
In October of 2012, La Tienda co-founder Don Harris was awarded Spain's Official Cross of the Order of Civil Merit by Ramón Gil-Casares, Ambassador of Spain to the United States, in recognition of Harris' extraordinary services promoting the people, culture and foods of Spain in the United States.