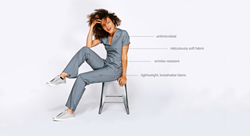 "We're doing for scrubs what lululemon did for yoga wear." - Heather Hasson, co-founder at FIGS.
Vancouver, BC (PRWEB) May 05, 2016
Campfire Capital, a venture capital group with a differentiated model of providing financing combined with access to its renowned group of North American consumer and retail experts, announced today it is leading a $5 million Series A round for purpose-led medical apparel startup FIGS.
FIGS will join Campfire's growing list of portfolio companies, including Montreal-based menswear retailer Frank & Oak and San Francisco-based food tech startup Juicero, who launched the world's first at-home, cold-press juicing system last month.
Christine Day, Partner at Campfire, current CEO of Luvo and ex-CEO of lululemon said: "In addition to capital, what entrepreneurs really need is access to the broad expertise required to build a successful retail business. We see a tremendous opportunity to leverage Campfire's collective experience and relationships to further brand and scale FIGS to transform this $9 billion unbranded industry."
Founded in 2013 by Heather Hasson and Trina Spear, Los Angeles-based FIGS identified a need for alternatives to currently available products in the medical scrubs industry, the bulk of which were made up of inexpensive, low quality, poorly branded styles sold through unappealing third-party merchandise channels, on and offline.
"Medical professionals – doctors, nurses, dentists, vets, technicians – have to purchase multiple uniforms so they can go to work and perform well in their jobs. This experience has been a largely underwhelming one so far, and we're changing that," said Heather Hasson, co-founder of FIGS. "By leading with a strong mission that's ingrained into everything we do, we're offering a superior experience through a high quality and functional product. We're doing for scrubs what lululemon did for yoga wear."
By offering premium technical apparel that meets the demands of 14+ hour days spent in motion and contact with colleagues and patients alike, Hasson and Spear are intent on revolutionizing the industry. Their fashion-forward designs are constructed from wrinkle resistant, stain repellent fabrics that are supremely soft to the touch, lightweight, and breathable. Multiple pockets function to carry medical supplies, four-way stretch supports a wide range of movement, and anti-microbial treatments reduce the rate of hospital-acquired infection.
"We're thrilled to enter this next phase of growth alongside Campfire," said Trina Spear, co-founder of FIGS. "It's been wonderful to align with a group who brings not only capital, but shares an unparalleled breadth of industry expertise and networks."
FIGS has raised $10 million in funding to date. The Series A capital will be used to increase inventory to meet demand, explore and expand new product categories, and scale its team.