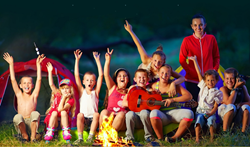 Unhurried, Uncrowded, Uncompromising
Wilmington, VT (PRWEB) March 30, 2015
The Hermitage Club announced today the development of a highly innovative children's summer camp program for club members. The Hermitage Summer Camp at Haystack Mountain will be divided into multiple age groups with each of the specific group activities supervised by highly trained camp counselors. Dale Ribaudo, senior vice president of the club said, "We are extremely excited to announce that this summer will be packed full of children's and teen's activities at the Hermitage Club and surrounding properties! Kids of all ages can look forward to participating in our fun activities all summer long!"
According to Jim Barnes, president of the Hermitage Club, "The intent of Camp Hermitage will be to introduce and engage our members' children in exciting, educational and age specific outdoor activities that are available in the pristine natural environment of southern Vermont's Green Mountains. Leading the way will be our new Challenge Course, a new playground and tree house, a low Ropes elements course, and Monkey Hardware climbing gear, all of which are supervised by our camp counselors." Camp Hermitage summer activities are divided into kid's activities for 3 – 12 years old that will include water activities/swimming, outdoor adventure, sports/recreation, and fine arts/music. The teen group (14 – 17) and be focused on outdoor sports and recreation. Campers will spend the morning taking golf lessons, and then participate in swimming, team sports, fly-fishing, hiking, and biking in the afternoon while under staff supervision and guidance.
Hermitage Club Day Care was also announced - the high-quality, state licensed day care and nursery program will remain open for the summer months to accommodate infant, toddler, or young preschooler while mom and dad enjoy golf, hikes, lunch, or any other summer activity at the Club. Dates of Operation: Memorial Day weekend, Saturdays and Sundays in June, and Wednesday through Monday in July and August.
About The Hermitage Club
The Hermitage Club at Haystack Mountain is a 1,400-acre enclave in the Deerfield Valley of Southern Vermont. The Club, located in the towns of West Dover and Wilmington, VT, provides members with four seasons of private mountain activities, luxury accommodations and a worry free, safe environment for families of all generations. The exclusive private club community celebrates the outdoors and family fun, with activities ranging from alpine skiing and boarding to cross country skiing and snowshoeing. The Club has also recently added a variety of summer water and mountain adventure activities including hiking, swimming and kayaking in addition to golfing at its 18-hole championship golf course. The new clubhouse, combined with the residential construction taking place at The Club, qualifies as the largest real estate construction project in southern Vermont and has attracted the interest of those interested in Vermont resort real estate.The Hermitage Club is the fastest growing company in Vermont and was recently named to Inc. Magazine's Inc. 5000 list of fastest growing private companies in the United States.