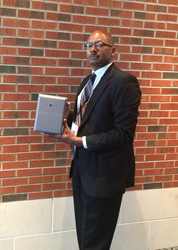 I believe the Eco-Counter Pyro Sensor will revolutionize the bicycle & pedestrian planning element in our region. The counts can be used as a tool to benefit a public that desires an active lifestyle.
Raleigh, NC (PRWEB) June 03, 2014
CAMPO, Capital Area Metropolitan Planning Organization, located in Raleigh, NC, is using Eco-Counter Technology, to bring local residents together to create active and vibrant communities!
Local festivals, parades, and events; along with citizens daily use of recreational greenways, trails, and parks, all bring residents together to create an active and vibrant community. How can government agencies responsible for these events and recreational facilities know the preferences of residents in order to plan for meeting current and future maintenance and facility needs? The Capital Area Metropolitan Planning Organization, (CAMPO), located in Raleigh, NC is addressing this issue with their pursuit of new technology for determining accurate count data for usage by pedestrians and bicyclists. CAMPO's objective is to provide and support transportation planning, that includes pedestrian and bicycle projects, along with transit and road improvement projects, for the Raleigh Urban Area. CAMPO works alongside city and town governments within a five county region, providing both long-range and short-range planning, and creating programs that provide funding to local area governments. Mr. Kenneth Withrow, Senior Transportation Planner for CAMPO, explained his organization's goal to help towns, cities and counties share planning information and funding resources from Locally Administered Projects Program, (LAPP), funds, where greenways, trails, roads and events cross over town and county boundaries.
CAMPO specifically looked for a technology to help them accurately measure pedestrian and bicycle usage trends to help justify their funding distribution. Often cities and towns do not have access to data that provides accurate information on what recreational facilities or what events residents are utilizing and attending. This lack of accurate data for use, between governments and their communities, may often mean that available funding goes to waste. Today, CAMPO is addressing this issue by using the Eco-Counter Pyro counting technology. Through the use of Eco-Counter technology, highly accurate pedestrian and bicycle count studies provide information on usage trends and attendance information by date and time. The specific event or location count data can be analyzed and then used by town governments to determine where to focus their resources and efforts. This includes funding, maintenance, and construction of additional amenities, which may assist with growing communities and benefit local residents.
Transportation Equipment & Services, Inc. (TES) personnel met with CAMPO officials in 2013 to discuss and understand their needs. TES, located in Youngsville, NC is a local equipment distributor, technical support provider, and leader in providing innovative technology to meet customer's transportation needs, including pedestrian and bicycle related needs. After listening to and understanding CAMPO's objective, TES sales consultant Mark Holland, introduced the Eco-Counter PYRO sensor to provide the pedestrian and bicycle count information that CAMPO was looking to collect.
Eco-Counter is recognized as a world leader in pedestrian and bicycle counting technology. With a dedicated staff headquartered in Brittany, France providing complete manufacturing and technical support, the company has over 6,000 installations in over 40 countries worldwide. The US market is served by a support staff located in Montreal, Canada, which has resulted in hundreds of installations of Eco-Counter systems throughout the US. As utilized by CAMPO for pedestrian and bicycle counts, the Eco- Counter PYRO sensor uses a combination of passive infrared pyroelectric technology and a high precision lens to detect a change in the temperature when a person or bicycle passes in range of the sensor. It can detect direction of the person walking or cycling as he or she passes, and it then records counts on hourly or 15 minute intervals.
The ease of installation and ability to move the PYRO sensor to multiple locations at any time was a perfect fit for CAMPO's needs. The PYRO is battery powered and does not require any direct AC power source. It can be set up in less than 10 minutes and can conduct studies of any length of time, from days to years. Now, using the PYRO sensor and Eco-Counter technology, CAMPO and Mr. Withrow are helping to fill in the government agency's information deficit by utilizing this highly accurate detection technology that provides valuable pedestrian and bicycle counts with date/time period usage trends. The information gathered by Mr. Withrow is being collected into a regional database that is public information, enabling town governments to share information on pedestrian and bicycle usage at exact dates and times for specific greenways, trails, events and festivals. This can help determine where to focus funding efforts to support actual resident demand.
So far, CAMPO has conducted 21 studies in 11 locations throughout Wake County, NC. Each study is recorded as a separate event. Mr. Withrow conducted a weekend long study during the Bluegrass Festival on Fayetteville Street in downtown Raleigh, NC in September, 2013. After the conclusion of the weekend, Mr. Withrow analyzed the data accurately measured by the Eco-Counter PYRO, and determined that over 50,000 visitors traveled along that portion of Fayetteville Street while attending the event. This attendance level was far greater than previous year's recorded attendance, which the city had estimated based on unofficial visual counts. What does this mean for future events? According to Mr. Withrow, next year CAMPO and the City of Raleigh can plan more accurately and anticipate funding for staff and maintenance to support a larger crowd. Furthermore, there have been numerous studies conducted on greenways and trails, providing data to help towns determine the validity of community survey results, where there is a growing trend of residents requesting greenway and trail development, along with further construction of supporting facilities at these locations.
CAMPO has been extremely pleased with the results of these PYRO sensor studies over the past 9 months. They are able to support their planning efforts and provide funding to counties, cities, and towns knowing the data collected justifies their recommendations. Future studies are scheduled, and results will be added to the regional database for future use in justification for funding. "I believe the Eco-Counter sensor will revolutionize the bicycle/pedestrian planning element in our region. The counts can be used as a tool to justify the construction of bicycle and pedestrian projects that will benefit a public that desires an active lifestyle," said Mr. Withrow.
Mark Holland, sales consultant for Transportation Equipment & Services, Inc. agrees, "I believe CAMPO is benefiting their local communities in planning for required resources and funding by measuring usage for trails, greenways, and local events and providing accurate count studies for pedestrians and bicyclists. I am pleased we could offer our assistance by listening and understanding CAMPO's needs to match with the technology provided by the Eco-Counter PYRO."