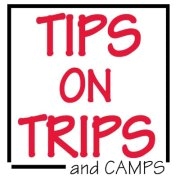 Counselors and camp directors are trained to deal with the reactions of campers, particularly those attending for the first time.
Baltimore, MD (PRWEB) May 13, 2014
Camp consultants help find camps for families, but they also serve as counselors to parents of worried first-time campers. Co-owner of Tips on Trips and Camps, Eve Eifler, says as the summer draws near, parents start to fret about things like, "Did I make the right camp decision? Is my child too young to go away or is the camp too far away? Will she remember to brush her teeth? Will he cry himself to sleep every night?"
Eifler consoles parents by reminding them that, "Counselors and camp directors are trained to deal with the reactions of campers, particularly those attending for the first time." But, she adds, "Make sure the director and counselors are made aware of any particular issues – bedwetting, sleepwalking, a sick parent or sibling at home. If the camp is informed, they are better prepared to deal with any issue."
Tips on Trips Co-owner Carey Rivers warns of a common parenting pitfall, "Do not offer to pick up your child if he or she is not having a good time. Avoid statements such as 'If you don't like camp, you can come home'." The goal, Rivers says, should be to manage expectations about homesickness. Most kids experience it in some form and at some point during camp. Rivers says, "It is important that your child knows to expect a little homesickness, but there are people and processes at camp to help him through it."
Eifler, a mother herself of two grown boys says, "Don't overreact to first reports of homesickness. Almost all campers experience it at some point but it almost always passes in one or two days. By the time a heart-wrenching letter arrives in the mail, chances are your son or daughter is a happy camper enjoying time with his or her new-found friends."
Eifler adds, "If you receive an unhappy letter from your child or a letter that makes you uncomfortable about some aspect of camp, call the camp director to discuss it."
Rivers advises consistent communication, "Write to your child often. They will enjoy hearing their name called out when the mail arrives." However, Rivers adds, "Don't send so much detail about life at home that it could make your child feel they're missing out on something. Avoid telling them how much you, their siblings, or pets miss them." Check on the camp policy regarding care packages. If permitted, these can be a real treat to a child who is away from home.
If a child is going to a full season camp with a visiting day, don't be surprised if your child regresses when they see you. Eifler says, "It is not uncommon for a camper who's having a great summer to experience pangs of homesickness or display separation problems when they see their families. Be accepting of their feelings, yet reassuring and confident in their ability to get past these feelings and have fun at camp. Remember the child who cried at the door of nursery school and pulled on your heartstrings only to be fine within a few minutes after you left? It is several years later but the situation is not all that different."
Most importantly, Rivers reminds parents to enjoy the time while children are at camp. She says, "Give yourself a treat. It may give you time alone with one of your other children, time you don't usually have to devote solely to them. If you're left at home with no children, enjoy time to yourself and with your spouse, significant other and/or friends. Make this time a special experience for you in addition to the one you're giving your child."
Tips on Trips consultants have been advising parents for the last 43 years. They have U.S. regional offices in Maryland, Washington, D.C., New York, Vermont, Massachusetts, Pennsylvania, North Carolina, Florida, Texas, Missouri, Illinois, California, and abroad in France and Barcelona. Parents can receive expert advice by telephone, email or in person.
For more information, see http://www.TipsonTripsandCamps.com.